Montreal Masters, Second and Third Rounds
(13) Tsonga d. (3) Federer, 7/6 4/6 6/1
Dodig d. (2) Nadal, 1/6 7/6 7/6
Jo-Wilfried Tsonga this evening defeated Roger Federer in an enthralling three set encounter that recalled last month's Wimbledon quarterfinal, in vibe if not in shape. As in London, it was the Frenchman's willingness to damn caution in the big moments – damn its eyes! – that proved decisive.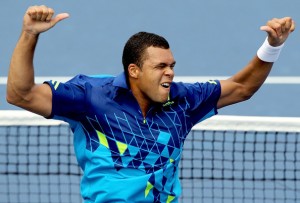 Federer on the other hand, never deployed a commensurate boldness when it mattered most. Indeed, an uncharacteristic lack of fearlessness on the part of the big names has so far defined the week, though not as succinctly as the fact that most of them have lost.
Both points render my pretensions as a tennis analyst questionable. Following Murray's loss to Kevin Anderson, I went on at some length about how the Scot appears to lack whichever instinct allows his peers to transition so fluently and suddenly into attack when pressed. I don't think I was wrong about Murray, but both Federer and Nadal displayed little fight in their losses, and almost no willingness to push back when pressed. Nadal was arguably justified in thinking Ivan Dodig would prove incapable of sustaining attack for as long he did. But Federer had no excuse, since Tsonga proved as recently as last month that he can not only sustain that level, but elevate it if permitted to. As the commentator remarked tonight during that remarkable third set, Tsonga grew 'Federer-like'. Federer, it hardly needs to be said, didn't.
For their parts, Murray and Nadal certainly played their matches all wrong, but they were still unfortunate to have flat days against journeymen playing the matches of their lives. I don't mean 'journeyman' in any derisory sense, but both Anderson's and Dodig's elevated form in securing such extravagant upsets was thrown into sharp relief when each lost with scant fuss in the following round, to Wawrinka and Tipsarevic respectively. Tsonga may be ranked a modest 16, but since the clay season ended he has surely numbered among the top five or six players in the world, not merely on results on but on raw ability.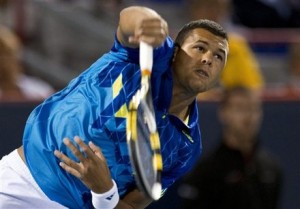 Federer would have done better to treat him as such, and to approach tonight's match a semifinal. This is only amplified when we consider that Tsonga has somehow transformed himself into a tough matchup for Federer, an impressive feat against the greatest and most complete player of the era. Bear in mind that the calm assurance with which Tsonga served out tonight's match – and their Wimbledon quarterfinal – was nowhere in evidence against Bernard Tomic yesterday. The standard word on Tsonga before this year was that for all he was an impressive physical specimen, he was streaky, and that pronounced technical deficiencies in his service return and backhand would ultimately curtail his ascent up the rankings, even if he could dodge injury. He seems to have addressed those concerns, if in an atypical – and therefore typically French – way. To take one example, if top coaches were invited to compile a list of ways to improve Tsonga's backhand, the idea of incorporating a seemingly gratuitous one-handed passing shot to his repertoire would probably not feature. And yet he has, and it is certainly working. He hardly ever misses with that thing, and it looks more natural than his two-hander. It capped off his most Federer-like point of the match, in which he ran down a drop-volley and flicked the backhand cross-court for a winner.
With that said, the drop-volley hadn't been very good, and was only necessitated by an approach driven conveniently at the waiting Tsonga's forehand. From memory, it was a breakpoint. It was a terrible lapse on Federer's part, one of several, all of which revealed an underlying caution.
He played not to miss, and to be fair he didn't miss much. But neither did Tsonga, and the bits of the court that Tsonga didn't miss were all closer to the lines.
Inevitably, parallels will be drawn between this match and the pair's encounter two years ago on the same court, which was similar in shape but not in vibe. In that match, Federer had led 5/1 in the third, before losing the match in a tiebreaker. Of course, he was invited to ruminate on the connection afterwards. Characteristically, he showed little inclination to do so: 'Two years ago he [Tsonga] didn't really deserve the victory. I believe he played a lot better today, and he deserved it today. Two years ago I think he was lucky to pull out the win. Tonight he played well and he played extraordinary shots as we know he can do. I was not able to do that.' This seems true enough, but it begs the question: was the issue that Federer was not able to play extraordinary shots, or that he just didn't attempt them?