Montreal Masters, Second Round
Anderson d. (4) Murray, 6/3 6/1
Kevin Anderson today defeated two-time defending champion Andy Murray in two astonishingly straight sets. It was clearly the upset of the day, although it may not rank in the top five for the year, even for Murray. Anderson is several classes above Donald Young and Alex Bogomolov, and today he played well.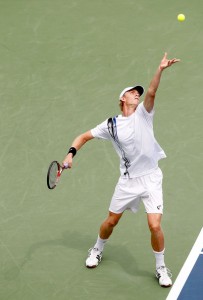 Still, it was upsetting enough, and the world No.4 will shed nearly a thousand points, which might have seen his ranking threatened had either Soderling or Ferrer turned up. They haven't, so he's safe for now.
Anderson performed strongly, imposing and probing, and for a man of his height he is surprisingly mobile, a trait that was widely lauded after his gallant loss to Djokovic in Miami. The lopsided scoreline might conceivably inspire the assumption that Anderson's serve was impregnable, and certainly the combination of steepling bounce and 65% didn't make Murray's task easy. But the South African served only 5 aces, so the Scot's task was at least feasible. Really, it was Anderson's willingness to press the attack behind the serve and the return that proved decisive. Murray seemed discontent enough to let him, in full retrieval mode, scampering dourly, until his opponent eventually put him away. Anderson was potent off the ground, especially on his approaches.
That is by some considerable margin the most baffling thing about Murray, the way that defence and attack are so discretely separated in his mind, the way it is one or the other. The three men ranked above him – and now far above him – are rightly famed not only for their capacity to transition immediately to offence, but also for their willingness to. When pressed, they grow bold. For Murray, however, it is usually either one or the other and whole sets can go by without a perceptible shift in approach. Generally the approach is pre-determined according to his opponent. He usually goes all out against Nadal, and is impressive until he unravels. Nadal by now realises that he must merely weather the initial tempest.
Faced with Andy Roddick in the Queens semifinal, Murray calibrated himself for maximum hostility – inspiring Roddick's plea to 'keep it social' – and it was a definitive display. Two days later he saw off Jo-Wilfried Tsonga in the final, having flicked the switch in his brain to Defensive. Tsonga dove and smashed his way to a lead, but couldn't finish it, and so Murray was largely vindicated.
Today, by Murray's own admission, he fell behind early, and thereafter the requirement to break Anderson's serve proved overwhelming. This is precisely the situation in which Nadal, Djokovic and Federer get busy, but Murray opted merely to dial down the intensity further. It is forgivable to begin sets badly – that happens to everyone, even Djokovic – but to then end them badly suggests you were either facing someone much better than you (which he wasn't) or that there is a problem with your approach. In the press conference afterwards he bemoaned the fact that 'nothing was working'. Admittedly, we've all had days like that, but we're not all world No.4, a two-time defending champion, and facing a guy who has never broken the top 30. At least, I'm assuming we're not. Honestly, I'm not certain what the match would have looked like if what Murray was doing had been working. There is only so much mastery you can bring to bear when your game plan consists of defending until your opponent misses, especially when he isn't.