Wimbledon, Third Round
(Q) Tomic d. (5) Soderling, 6/1 6/4 7/5
My heartfelt determination to leave off writing about Bernard Tomic for a while has hit a snag, namely that by defeating Robin Soderling and moving through to the fourth round, he has become the standout story of a mostly unremarkable first week. As for last night's match – the teenager's debut on Centre Court against a fancied Swede with a recently-demonstrated taste for Australian meat – there isn't a great deal that needs to be added.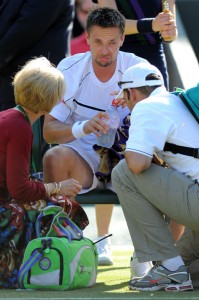 Soderling was suffering from something or other; apparently he felt dizzy and nauseous, that queasy vertigo that occurs when the ground drops giddily away. Down 0/5 after eleven minutes, that's probably how it felt. Tomic, in that first set, was virtually unplayable, if only for an opponent who thrives on rhythm, pace, and not having to lunge forward to dig up out-spun forehand junkballs, followed by a dead slice, or a knifed slice, or a floated slice, or a crushed backhand up the line or a dropshot or a forehand drive or a . . . well, you get the picture. Playing Tomic is hard work, and Soderling literally did not have the stomach for it.
The Rest
Following that anachronistic middle Sunday break, the second Monday at Wimbledon is arguably the greatest single day in men's tennis, with all sixteen remaining men scheduled to play. However, for a certain type of tennis fan – namely aficionados of the godlike forehand – yesterday was probably about as good as it gets. Roger Federer, Rafael Nadal, Juan Martin del Potro, Fernando Gonzalez, Jo-Wilfried Tsonga and Robin Soderling were all playing their trade, with varying efficacy.
Prior to commencement, Federer and Nalbandian's 19th installment was likely to be the pick of the day's encounters, although in the end it definitely was not. Federer yielded an early break, but was otherwise in scant peril. The highlights all came on the three squandered matchpoints. The actual pick of the day was Tsonga's pulsating dismissal of Gonzalez, which might have been competitive had Tsonga not so dramatically exceeded his usual standard.
As it was, the Chilean slapped some vintage forehands, but was otherwise hit off the court, which was no shame since just about anybody would have been. Speaking of slapping vintage forehands, del Potro emphatically did not against Gilles Simon, instead remaining merely composed whilst the Frenchman grew sadly erratic, a tendency at odds with his character, though not his nationality. Overall a very disappointing match.
Djokovic's four set win over a vaguely resurgent Marcos Baghdatis provided rather more interest, not necessarily for the result, which was largely guaranteed, but by how it brought forth the turmoil roiling below the Serbian's cocky bonhomie. The Streak may be gone, but he remains within hailing distance of the top ranking, and tension rides his shoulder like a hawk, its talons gouging deeper with each miss. Since that semifinal in Paris there have been numerous hints of the old Djokovic, the one who grins with dark wryness when Federer saves breakpoints with aces, who worries that, ultimately, it just isn't meant to be. It is almost inevitable that he will achieve the No.1 position, but if he's this tight chasing it, how will he fare when he must defend it? He faces Michael Llodra next.