The central narrative of Wimbledon 2011 has thus far followed those players who aren't of the top four, yet have progressed to the final eight. That the top four are there as well no longer merits a chapter apparently, although they will presumably feature heavily as the tale climaxes. The fact that two of the other quarterfinalists hail from Australia and the USA – where the rich tennis tradition is pronounced dead on an hourly basis – has certainly helped. That neither player is Lleyton Hewitt or Andy Roddick is downright astonishing.
(1) Nadal v (10) Fish
The American is Mardy Fish, who yesterday saw off the defending runner-up Tomas Berdych in straight sets, and who will rise into the top eight even if he progresses no further.
Berdych will fall to No.9, and is lucky not to fall lower. Points in the 10-20 range are just so very scarce. Fish has always had the game for grass, but never had a body for tennis. Now he has both, and here he is.
Rafael Nadal is there, too, despite enduring a pretty tense dust-up with Juan Martin del Potro. The world No.1 broke his foot or something at 6/5 in the first set, and was in some doubt to continue. He was permitted an immediate medical timeout when he probably shouldn't have been: it would be hard to argue that his condition was an emergency, and that a sore foot couldn't have waited until after the tiebreak. He also attracted an inevitable warning for excessive tardiness between points, but was not then docked a point when he failed to display the slightest alacrity thereafter. It's hard to fault Nadal in either case, and easy to fault Carlos Ramos, since the token and arbitrary enforcement of rules looks worse than no enforcement at all.
Nadal has since undergone an MRI on his foot, and no issue could be found, which helps explain why he was able to run around very quickly for several hours on it. There is thus every chance he will take the court for the quarterfinal. Fish would do well to make him run and stretch, and will do well to take a set. Nadal's foot and Fish's nerve – especially holding it on serve – will determine the outcome.
(4) Murray v Lopez
It was only by the narrowest of margins that there aren't two Qualifiers in the quarterfinals. Lukasz Kubot earned two matchpoints in the third set tiebreak against Feliciano Lopez, including one on his own serve, which vanished in a flurry of volleys insufficiently put away and a crushed passing shot. A routine straight set upset thereafter blossomed into an dramatic and atavistic epic – the net was rushed often by burly men playing those shots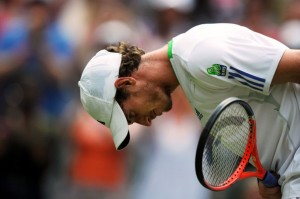 where you don't let the ball bounce, 'volleys' my Dad calls them – although the quality wasn't as high as those bafflingly skewed Wimbledon stats suggest. Apparently the only way to commit an unforced error this year is to miss a chest-high forehand within a metre of the net.
Andy Murray's victory over Richard Gasquet was a perfunctory fizzer, a shame for a match that promised so much, which is basically what will be chiselled into the Frenchman's tombstone. The Duke and Duchess of Cambridge turned up, and Murray afterwards graced them with a bow that appeared highly ironic, although it was perhaps merely stiff and unpracticed, understandable given it was delivered by a Scottish tennis player, and not a concert pianist or an 18th century courtier. Prince William gave a hearty grin. That is one charming man.
One doubts whether Murray will have much more trouble against Lopez, who would need to play considerably better than he did in defeating Roddick, considered to rank among his career wins. His lefty serve is a monster on this surface, but he hasn't faced a returner of Murray's calibre yet – meaning he hasn't faced Djokovic – and it's almost inevitable that his very creaky ground game will get found very out.
I'll cover the bottom half of the draw tomorrow.