Wimbledon, Second Round
Tomic d. Andreev, 4/6 5/7 6/3 6/4 6/1
John Newcombe was back in full voice last night for the concluding sets of Bernard Tomic's five-set win over Igor Andreev, a victory that has apparently saved Australian men's tennis, in much the same way that Tennis Australia hasn't. Each set's contrasting vibe was masterfully captured in Newk's commentary.
The mounting tension of the fourth set found expression via dire mutterings about Tomic's court position and second serve, which were too deep and piss-weak, respectively. These musings gave way to triumphant if overwrought panegyrics in the fifth, like a lost verse of Advance Australia Fair, and including the bold assertion that the young Australian boasts a superior backhand slice to Roger Federer's. He doesn't, but forgive Newcombe his follies, for it was a stirring win. It also means that when the rankings are next released Tomic will be the highest ranked Australian male player. The future of Australian tennis is thus assured, apparently, although that assurance is rather diminished if we consider that had Tomic lost, Marinko Matosevic would have been top dog. And anyway, surely having only one good player at a time is why Australian men's tennis is in this mess? Even Switzerland, who have the greatest player ever, find it useful to maintain a spare.
Playing offsider, Todd Woodbridge made a telling if slightly obvious point when he remarked that the passive and weird way Tomic rallies owes a great deal to the ease with which he dominated the juniors. If he could win all his matches like that he would, and so far through a lauded junior career, he mostly has.
It's the kind of game designed to transfigure an opponent's off day into a very embarrassing one, an arrhythmic and nearly unpatterned assault that demands unwavering concentration and iron discipline, which are the things most juniors lack. So is it any surprise that his professional highlights have come against Feliciano Lopez, or Marin Cilic?
That said, it's pretty obvious to everyone – even to Tomic himself, and maybe even to his father – that this style doesn't particularly impress the very best. Just picture the day out Djokovic would have. To that end, Tomic played Nadal very differently back in Melbourne, where he wedded aggression to the inescapable variety, and refused to back off the baseline, to the world No.1's sustained consternation. That is what was so fascinating about Tomic's fifth set against Andreev today. Tomic grew most imposing at the precise point when it was least required. Down a few breaks, the Russian was basically done, and Tomic could have safely noodled his way to the win from a couple of metres shy of the baseline. But he stepped in and began upping the pace, scorching backhands up the line, biting his slices, foraying into the forecourt, and injecting pop and variety into a hitherto powder-puff second serve.
This would seem to run counter to Woodbridge's assessment. (And it's worth bearing in mind that despite Woodbridge's lightweight media personality and his apparent eagerness to meet the surely-onerous requirements of cross-promoting whatever he is told to, he's an all-time great who has had a lot to do with Tomic.)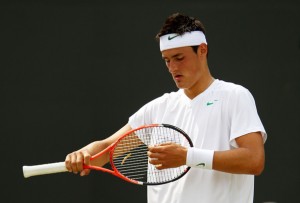 But if Tomic at his most comfortable grows more passive, then what do we make of that fifth set, in which he betrayed a Federer-like tendency to lift dramatically when least threatened? He didn't exactly run away with that fourth set; he took it by breaking against the run of play, camped back in Monfils-territory. Having barely forced a decider, it's doubtful whether he was tuning his game up for Robin Soderling in the next round. That would entail arrogance to the point of lunacy from an 18 year attempting to reach his first Wimbledon third round, against a mercurial tour veteran with the capacity to transmute frustration into a torrent of forehand winners. I doubt Tomic felt this match was won until it actually was.
As it happened, Andreev's frustration blossomed into nothing more fearsome than petulance. For a career also-ran now half a decade past his best, it was a humiliating way to go out, being broken three times. On a couple of those breaks, he shaped up to smash his racquet, but each time thought better of it. By the end, he just looked resigned. Like so many others, Andreev had failed the Tomic Test.