Wimbledon, Second Round
(5) Soderling d. Hewitt, 6/7 3/6 7/5 6/4 6/4
The choice of commentary, ultimately, came down to Greg Rusedski or John Newcombe. Who was less unbearable? On the one hand, Newcombe's approach was neatly summed up by the man himself: 'I'm sorry if that sounds biased, but I am!' On the other hand, Rusedski's capacity to say almost nothing at narcoleptic length promised to make a potentially epic match feel merely endless.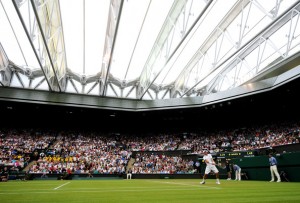 In the end I went with Newk, not out of any special sense of patriotism, but because his unrelenting encomiums could grow out of proportion when things got tight, or if Hewitt got ahead. There's a certain interest in witnessing someone go off their nut.
As it happened, Hewitt did get ahead, though Newk regrettably held it together for the most part. This was a shame, for if ever there was a moment to give it up it was as the Australian broke in the second set, courtesy of a miraculous diving, somersaulting backhand pass that brought even Hewitt up short, staring at his box in disbelief before launching into the usual routine of come-ons and that hand-to-the-forehand thing he tried to trademark some years back. There were also a couple of full-stretch diving volleys that nearly did for Newk's heart. I'm pretty sure that's how he'd want to go.
Through two and a half sets, today's match recalled Hewitt's victory over Juan Martin del Potro here two years ago, a succinct example of grass-court nous and variety trumping a uni-dimensional power baseline game. On that occasion del Potro had shown little inclination or capacity to vary a losing gameplan, until the end maintaining his determination to hit through an unyielding opponent. Today it appeared as though Soderling might display similar limitations. 'It looks like he has no Plan B,' remarked Newcombe wonderingly, and not a little derisively. His man was ahead, and there was just no way he was losing this thing from two sets up. Some stats were paraded to the effect that Hewitt hadn't lost at Wimbledon after claiming the first set in a long time. Not to be outdone, I turned to my wife and informed her that this pair had split their last two meetings, and that in both cases the winner had dropped the opening set, thus proving that stats can prove anything, and that I'm just a huge tennis nerd.
It has been demonstrated convincingly that Soderling's service motion creates certain limitations, most notably in that he lacks an effective slider. His wide serve to the deuce court comes in flatter and harder than those of other players,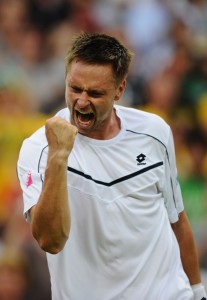 enabled by his height and excellent extension, deriving its potency from pace rather than placement. In short, it don't slide. That said, it appears to be a limitation he has been addressing, since today his wide serves were landing wider and breaking more sharply than has hitherto been the case. Nonetheless, it remains a glaring omission from his repertoire.
Hewitt's slider, though boasting nothing like the raw pace of his opponent's, was considerably more effective. He went relentlessly at Soderling's forehand, even second serves, reflecting a determination to break that wing down, clearly a tactic he and Tony Roche had thrashed out beforehand. The theory is that despite Soderling's forehand rating among the sport's more feared weapons, it is an all-or-nothing shot, and faced with sufficient variety and the vagaries of the surface, it might turn out to be nothing more often than it was all. And so it proved, for a bit. Despite Hewitt's abysmal first serve percentage in the first few sets, the near-unrelenting forehand attack yielded countless fluffed returns, which consequently infected the groundstrokes.* Most of Soderling's unforced errors were generated from that wing.
The change came late in the third, with the match finely balanced. Whereas he'd looked flustered at the deaths of sets one and two, Soderling now looked incongruously serene. He began to take some pace off his groundstrokes, which in real terms means he began to hit them about as hard as Hewitt was. He began to bunt or even slice his forehand returns, forcing Hewitt to make the pace. He reigned in his aggression, and although his winners remained numerous, they became natural extensions of the rally.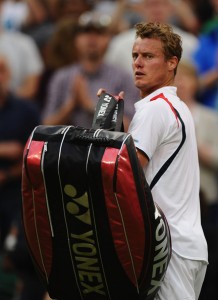 It turned out he did have a Plan B, and this was it, and it was working. Admirably, Newk conceded as much. Hewitt was broken whilst serving to stay in each set, and it moved to a decider.
Momentum lurched back the Australian's way as he broke early in the fifth, but he soon yielded it back. Then, for the third set in a row, he saved his worst for the moment he needed his best, as he was serving to stay in the match. Soderling's calmness has allowed him to rise into the elite, but Hewitt, mentally, is no longer the man who once dismantled Pete Sampras at Flushing Meadows. Four loose errors later and four hours in, and it was over. Soderling was chuffed, and rightly so. His draw is utterly uncivilised, but he is still standing.
Hewitt was stoic and gracious, as he invariably is in defeat. Tough losses to high-quality opponents have defined his late career. Think of Gonzalez or Nalbandian in Melbourne. He is now mired well outside the top hundred, yet he can push any number of top players to the very brink. It's a paradox, mostly owing to that rare mix of experience and decline that defines fading champions, and one he might resolve only by winning more, or by leaving the game for good.
*Hewitt's percentages have always been poor, though it worth reminding that pre-Roddick there was a general conviction that anything above 55% meant you weren't going for enough, or that you were a girly claycourter. Now most top players hover in the mid-sixties.