French Open, Semifinal
(3) Federer d. (2) Djokovic, 7/6 6/3 3/6 7/6
In the end – for the players, the crowd, and at least one person on the far side of the world – it was all about light. As Paris hurdled nine o'clock in the evening, and the fourth set surged to its wrenching climax in today's semifinal between Roger Federer and Novak Djokovic, word filtered down that the necessary decision had ossified into the official one. If Djokovic forced the match to a fifth set, play would be suspended.
It was bound to be an unpopular announcement, and a French crowd that had actually booed the net was unlikely to display equanimity. They had rioted once already this week, over nothing more serious than a venue-shift (whereas the Australian Open's riots invariably arrive courtesy of senseless Balkan antagonism).
When Djokovic finally broke in a monumental, manicure-ruining game for a 5/4 lead, the writing was on the wall, and it said 'To Be Continued', like the weekly serial in which a new plot element is introduced five minutes from the end. Two and two were put together, and the answer was tomorrow. No one was happy about it, though, excepting perhaps Djokovic. The stadium announcer was moved to a remote, secure, and secret location, hopefully delaying the delirious crowd from visiting grievous harm on him.
One could partly see their point, given they had so far witnessed the most electrifying and brilliant tennis match of the year. It demanded a better finish than a one-set shoot out in the brash light of Saturday.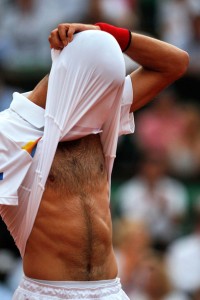 Federer's record at the Slam level when leading two sets to love is 174-0, and no one has won from two sets down in a French Open semifinal in the entire Open Era. Tasty stats, and nourishing for Federer's confidence, but they would seem like empty calories if Djokovic took the fourth, and was permitted to sleep on it. A one-set tussle is far more manageable than winning three in a row.
But Federer was having none of it. Three scintillating points, including a rocketed backhand winner up the line, earned him three points to break back, and he took one with a ferocious inside-in forehand. Back on serve, and the crowd erupted. The Serb fought on grimly, his face stricken, his body elastic. Both men were everywhere, and Federer's first serve was again untouchable. As Paris neared nine-thirty in dying light, we attained the tiebreak. Federer moved ahead early, even as Djokovic fought back. Then at 3-3 an error and two big serves brought Federer to triple match point, which is one more than he'd blown against Djokovic back in New York. Fittingly, the first two vanished with a dead net cord and an ace. The third was on Federer's serve. One more big one would do it. As the serve kissed the centre T at somewhere over 200 km/h, Djokovic's head dipped, Federer raised a single finger, admonishing a doubting world, and crowd was lost to delirium.
Here in Melbourne, pre-dawn light sluiced over the city like old dishwater. Once more, exhaustion and elation had fused in that cold grey wash of light. Addled from sleep-debt, I was transported back four years to the Hamburg Masters final, as Federer ended yet another titanic streak, and to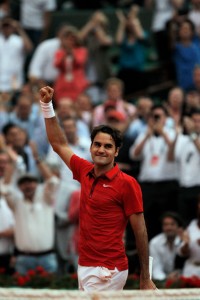 Nadal's gracious words at the trophy presentation: 'If I have to lose against someone, he is the man, no?' Before today, he was the last man to defeat Djokovic, all the way back in November, and now he is the only man to do it in 2011.
For Djokovic, he of course falls agonisingly short of any number of accolades: the greatest start to a season, the No.1 ranking, a first French Open title. The first is essentially meaningless, and John McEnroe has already conceded that Djokovic's run is categorically superior to his own in 1984. As they embraced at the net afterwards, Federer told Djokovic that 'the streak speaks for itself', and it truly does. As for the No.1 ranking, it is undoubtedly not far off. Indeed, if Federer takes out Nadal in the final on Sunday, Djokovic will still rise to the top spot.
However, in order for that to happen, Federer must achieve the apparently impossible, and defeat Nadal at the French Open, a feat that has been achieved precisely once. Usually when one man has done the impossible, that man is Federer, but not this time. The great Swiss has never even taken Nadal to five sets here, and the last time they met on this court he didn't even take him to five games. Today he beat the best player in the world, and on Sunday he must beat the world No.1 and most terrifyingly complete clay-courter of the era. As assignments go, it hardly gets tougher, but if anyone can do it, well, he is the man, no?