The semifinalists for Roland Garros 2011 have been decided, and for a wonder the Big Four constitute the final four. The lazy inclination is to add a knowing 'yet again', but in fact it only seems that way. It occurs far less often than you might think.
The last time it happened at a Slam was the first time it happened at all, at the US Open in 2008, the moment when Andy Murray joined this elite coterie. It also happened at the World Tour Finals last November. Incidentally, the configuration – Murray v. Nadal, and Djokovic v. Federer – has been the same in each case. One for the conspiracy theorists.
What happens far more regularly is that three of the four make it through, with one falling en route. In 2011 this has been the case at every significant event at which all of them have turned up, totalling one major and four Masters events. As consistent domination by the elite goes, it is unprecedented, and topped only by the fact that Djokovic won all of those tournaments, which cannot be topped at all. It also means that the dozens of remaining players are invariably fighting over a sole semifinal berth, or must be content with a quarterfinal finish. Of course, if they're in Djokovic's quarter, they can abandon all hope from the get-go.
Returning to Paris, and the journey to the semifinals proved considerably riskier for the draw's bottom half than the top. Between them, Djokovic and Federer have faced five other seeds, while Nadal and Murray have faced only two.
Federer has seen off Lopez, Tipsarevic, Wawrinka, and Monfils, which is a tough sequence on clay, though losing to any of them over best-of-five would have inspired headlines, probably, somewhere. Federer remains the only player to have not dropped a set, and hasn't looked this imposing since London last November.
Speaking of London last November, that was the last time Djokovic lost a tennis match, and he lost it to Federer. Ominous, no? No. Things change. That's what things do. That's their thing. Djokovic did for del Potro in the third round, which immediately qualified it as a tough draw, though honestly it seemed tougher on del Potro. The quarterfinal walkover ensures Djokovic is amply rested. Those commentators concerned that a five day break will lead to radical deskilling should display a little more faith. He's still the guy that straight-setted Nadal twice on clay in as many weeks, and he's probably been practicing. The odds on a Federer win were about $3.50 yesterday, which is about as low as I can recall for a Slam semifinal.
Meanwhile, Murray's draw has been about as taxing as a sustained fracas with down-stuffed pillows, although to be fair the pillows were being wielded by large hairy men, and he has a dodgy ankle. Thus hobbled, the Scot has rethought his fundamental approach to the sport. Firstly, he is now beginning matches extraordinarily slowly, to the point of gifting a few breaks from the outset, apparently so as to spend even more time on court. As strategies go it's not amazing, though it's still more solid than whatever tactical masterstroke saw him go down to Donald Young and Alex Bogomolov.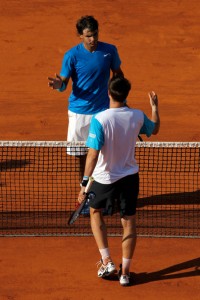 Once Murray feels the ropes kissing his backside, he commences throwing haymakers. Through five rounds, he has hit more winners than anyone else, both as a total, and in proportion to games played. Whilst neither Djokovic nor Nadal are ultra-aggressive players, Federer is, so this is saying something. He's a world-class noodler, usually, but expect him to continue hitting out against Nadal in their semifinal.
Meanwhile, talk of an ailing and declining Nadal has proved premature. It turns out there was nothing wrong with him that couldn't be cured by seeing Robin Soderling over the net. If nothing else, it refocused the Spaniard on his true purpose, which is not to go on winning French Opens – he feels no 'obligation', apparently – but to continue putting the Swede in his place. Soderling, apparently, felt 'obligated' to submit to it. He played poorly. Instructive parallels might be drawn with last year's Wimbledon, where Nadal navigated a tricky first week, but lifted considerably upon meeting Soderling in the last eight, before seeing off Murray in the semifinals. The key difference is that this time, there will be no Tomas Berdych in the final.