French Open, Final
(1) Nadal d. (3) Federer, 7/5 7/6 5/7 6/1
It was not until 5/1 in the fourth set, with the return of the sun and a second break in hand, that the dour knot marring Rafael Nadal's brow began to unknit, leaving only a furrowed focus.
Twenty-four previous encounters had drummed home a stern lesson: a single break against Roger Federer is no guarantee of anything. The lesson was now quite fresh, having been meted out just a set earlier.
Nadal had appeared harried since the very beginning, even as the indefatigable fatuity of the pre-match interview was inflicted on him. Dropped sets to Isner ghosted his gaze, and pale efforts against Andujar and Ljubicic. Hard losses to Djokovic rode his shoulders, and there, like a millstone suspended from a collar made of albatrosses, was Federer's imperious triumph over Djokovic just two days prior. The world No.1 looked beset, and as play began he was beset, by the sport's greatest player in scathing touch.
In form if not in timbre, the 2011 Roland Garros final recalled several of this pair's previous tussles at the same venue (discounting the unrepeatable mauling of 2008). The arcs were familiar: Nadal's doggedness blooming into dominance, and Federer's brilliance growing clouded by a flailing impotence.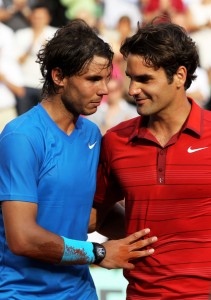 Today's final was like that, too, but it felt somehow larger. Partly it was because this encounter was not inevitable, where the others had been, but it was also the match itself. Nadal toiled harder to figure out this win, and if Federer's brilliance was shorter lived, it kept coming back, in waves, until suddenly it was gone.
Naturally, a scoreline of 7/5 7/6 5/7 suggests a match that might have veered either way, and both men afterwards conceded as much. The first set was two inches from another outcome, and the rain's sudden intervention almost cost Nadal the second. Federer, by the Spaniard's admission, grew unplayable in the third, and by the time the fourth rolled in, they were virtually equal on points. But then Nadal held from 0-40 to open that set, and cosy hindsight tells us it was thereafter going only one way. At the time, though, with events unfolding in the miraculous high-resolution real-time of life, inevitability was harder to make out, especially as Federer shrugged away disappointment and held easily. The momentum still seemed to be his.
But then it wasn't. The margins on a tennis court are vanishingly small, but suddenly vanished entirely. Nadal had lifted from nowhere, and began to marry creative counter-attack to desperate defence. How many lunging stabbed lobs landed within a foot of the baseline, utterly blunting his opponent's netward forays? Looping crosscourt retrievals were transfigured into vicious drives up the line, and it ceased to be a dull question of how long Federer could sustain the attack before he missed, but a desperate issue of how long he could keep the world No.1 at bay. Not long.
Afterwards Federer aired his usual opinion – genuinely held, and hard to refute even as we query its putative arrogance – that these matches are more or less on his racquet. He said the same thing after losing to Djokovic at the US Open, and was just as right in saying it.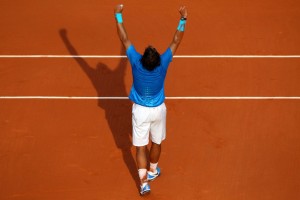 If all his shots go in, he wins. But there's a good reason why so many of his shots don't go in against Nadal on clay, and today it had little to do with the amply-hyped looping forehand to the one-handed backhand ploy – which Federer actually dealt with very well – but everything to do with Nadal's incomparable tenacity. Federer fought harder than he ever has, but Nadal fought harder still. In the end, the match ended like so many of theirs do, with a driven forehand error as elegant as all the winners, but more succinct than any concession speech.
I was immediately reminded of the 2009 Australian Open, or even 2008 Wimbledon, though this time Nadal only dropped to his knees, and rebounded quickly. He has tied Bjorn Borg with six French Open titles. As far as I am concerned, he is now the greatest clay courter ever to have graced the court.