The Tour has released Paris to its Gallic follies, and rolled inexorably onward to verdant pastures, Anglo and Teutonic respectively. Queens and Halle are already a few days old, the grass is deep and slick, and del Potro has suffered an injury scare, which has to happen before any event can truly get under way. Federer and Djokovic have pulled out, citing niggles, and breaking the heart of least one tournament director. Andy Roddick has returned, sporting Mardy Fish's socks. But before I grow too immersed in the lamentably fleeting grass season, here are some visions fugitives left over from Paris:
The Rankings
The big story was a change that did not happen, courtesy of a pre-ordained final that never took place. I speak of course of Novak Djokovic claiming the Roland Garros title and thereby wresting the top spot from Rafael Nadal. The Streak, as it will be wondering dubbed by future historians, had by now generated its own internal logic, part of which dictated that past results should count for little, the standard conceit of any new-world-order narrative.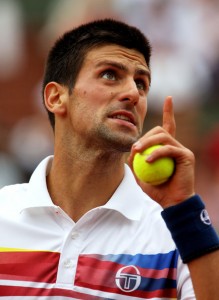 From the rubble shall emerge . . .  well, you know how it goes. Perspective is the first thing to go whenever a player goes on a tear. The incredible fact that Djokovic hadn't been beaten led some to the impertinent belief that he couldn't be, which was only buttressed as the Serb galloped through his early rounds and Nadal almost foundered. Indeed, the concern arose that the world No.1 might not meet his obligations. Come Sunday evening, and Nadal was still standing, and he is still world No.1, though only by a whisker.
The other ranking stories included a pair of Americans percolating into the top ten: Mardy Fish is up to No.9 after a best-ever third round effort, while Andy Roddick returns to No.10 despite not going to Paris at all, courtesy of Jurgen Melzer's precipitous plunge. Viktor Troicki is now at No.12. He broke new ground by reaching the fourth round at a major, but ploughed a very worn paddock by choking badly when he should have gone on with it. Special mention should also be made of Juan Ignacio Chela, the veteran who cleaned up on a ransacked part of the draw and progressed to the quarterfinals, something he has done no fewer than 11 times at significant events, and then not won any of them. He has moved up to No.20.
Roger Federer
Most of what needs to be said about Roger Federer has been, and no one has really gotten it wrong. Federer's knowing grin and raised index finger after that pulsating semifinal said it all: you discount the greatest player in history at your peril. The narrative leading into Paris was all about Nadal and Djokovic, but you can bet it won't be as we move to London, and not merely because Federer is a six time champion. He is confident, aggressive, and punctuating streaks of unplayable serving with patches of unplayable everything, a tough combination on grass. It won't be a question of who is unlucky enough to have him in their half, but of who is unlucky enough to be in his. Or he might lose in the first round. Wouldn't that be a hoot?
Nicolas Almagro
Several days prior to the French Open commencing, Nicolas Almagro paused whilst opening his umbrella inside under a ladder as a black cat crossed his path. He was also planning an expedition to Egypt, whereupon he would desecrate the tombs of several mummies, and Turin, where he would wipe his backside on the Shroud. None of this would have the slightest influence on his campaign in Paris, since he was already playing (and winning) in Nice, and was thus irredeemably cursed. His first round exit at Roland Garros capped a perfectly disappointing European clay season, and after the briefest of sojourns in the top ten, he has fallen to No.15. He won't climb higher for quite some time.
The Coverage
I like Mats Wilander, who seems like a genuine guy. I like that tour bus thing he drives around America giving out impromptu tennis lessons, a charming idea that vaguely recalls
Sviatoslav Richter's mission to bring the classical piano recital to the benighted peasants of Siberia. I also confess eternal respect for Wilander's 1988 season, in which he won three majors and gained the No.1 ranking, apparently motivated by little more than a desire to punish Ivan Lendl's hubris. Unfortunately, when it comes to commentary, Wilander is the colour guy granted too free a rein, and the calls invariably devolve into a Mats monologue, periodically relieved by plugs for his nightly round-up show. Early rounds proved soul-miring, but, for a wonder, Wilander was nowhere to be heard in the later rounds.
Otherwise Frew, Simon and the gang were no worse than usual, and I assiduously avoided Barbara Schett. It was nice to see Gustavo Kuerten amble in for a chat. Meanwhile, rival networks offered no fatter pickings. Mark Woodforde still doesn't realise there is no 'k' on the end of 'thing', and the avuncular Fred Stolle is progressively losing the plot. Thus did we delight in that semifinal between Federer and Ivanovic.