Rome Masters 1000, Second Round
Soderling d. Verdasco, 2/6 7/5 6/4
Madrid and Rome won't be the only Masters 1000 events to run back-to-back this year, but as far I can tell they are the only ones that will actually overlap. First round toil got under way in Rome some time prior to the Madrid final's commencement. Back in the days when unseeded players made it to finals, this might have caused a problem, but they don't any more, so it didn't. It does mean the Madrid finalists – Rafael Nadal and Novak Djokovic – have a pretty brisk turn around.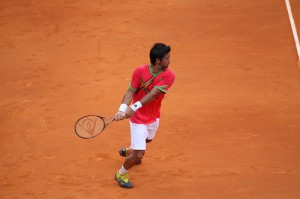 If there wasn't the pressing matter of the top ranking, one or the other might have given it a miss. Encouragingly, Rome at a bare 20 metres above sea level falls within Nadal's operational parameters, meaning the world No.1 can be considered a reasonable shot at the title, unlike the exospheric Madrid, where – addled by oxygen debt – he was apparently lucky just to find the venue.
Anyway, Rome is nearly two rounds old by now, and has generated no shortage of fascinating results, of which the most fascinating has been Fernando Verdasco's very sad loss to Robin Soderling today. Aficionados of choking will want this gem on their hard drives, so they can review it repeatedly, in slow motion, just to pinpoint the exact moment when the Spaniard's brain irrevocably scrambles. Of course, 6/2 5/4 40-0 isn't an utterly impregnable position – especially for Verdasco – but it's undeniably strong. From there a double fault and some tough play by Soderling brought it back to deuce, while a couple more double faults eventually saw the Swede break.
However, Soderling hardly ran away with the third set, although his determination not to take control was trumped at every turn by Verdasco's commitment to giving it away. Eventually they were on the same page, and Soderling's win was thus assured, but not before the lights malfunctioned, and a couple of medical timeouts. A bug flew into Verdasco's eye and set up camp – which was unusual – and at the end he refused to shake the umpire's hand, which has kind of become his signature move, like Radek Stepanek's 'Worm', or Petr Korda's scissor-kick.
Djokovic's is now a mind free from doubt, almost as though his capacity to second-guess himself was systematically extracted. It was then distilled, bottled, and then marketed as an exclusive hair product for men. The recommended dosage produces no side effects, although too liberal an application can lead to acute mental paralysis. We begged Verdasco to lay off the stuff – literally begged him! – but he was having none of it. It's hard to argue with the results, though. He may not be able to serve out a tennis match, but he sure has great lift.