Madrid Masters 1000, Final
Djokovic d. Nadal, 7/5 6/4
Novak Djokovic has beaten Rafael Nadal in the final of a Masters 1000 event for the third time in as many months, which doesn't make the task of writing about it any easier, especially if you're disinclined to repeat yourself. All things considered, the Madrid final was not radically unlike the finals of both Indian Wells and Miami.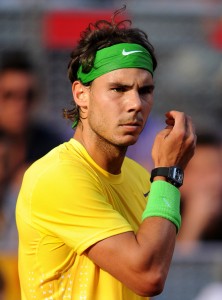 The dynamics that so enthralled pundits in those matches were in play once more, with the added spice of it occurring on clay, in Spain, and that the world No.1 looked even less like winning.
Indeed, it was another stark reminder that when Nadal loses on his beloved clay, it may be rare, but it's never very close. Think of Robin Soderling at Roland Garros, or Roger Federer in Hamburg. If you're a Nadal fan, such reminiscences are likely the last thing you feel like submitting to. (Perhaps a review of the 2008 French Open final, instead?) Anyway, there are more pressing concerns. Nadal's entire approach is predicated on breaking the other guy down: outlasting, outrunning and ultimately outhitting. So what can be done about the world No.2, who can stay with Nadal all day, and whose immaculate technique isn't breaking down? Predictably, there have been strident declarations as to the inauthenticity of the Madrid clay – 'red hardcourt!' they holler – and that normal service will be resumed in Rome and Paris. Djokovic, they insist, has yet to prove himself over five sets on the dirt. But the tone is desperate, and predicting what will happen based on Djokovic's history has become a frivolous task.
If Tomas Berdych defines the upper capabilities of tennis robotics as it currently stands, then Novak Djokovic offers a glimpse of where this exciting science might be in twenty years. I don't mean to suggest that the Serb is robotic – far from it, though I am saying that Berdych is – but merely that if you were to design a tennis player, you'd probably come up with something like him.
The way he is playing right now, the closest thing he has to a weakness are strengths marginally less extravagant than others. His serve and forehand are merely world-class, and not to be compared to his backhand and movement, which are out of this world. I suppose his volleys are less than stellar, but he's a hard man to lure forward on terms that don't suit him, since he moves as well into the court as he does laterally.
Perfection only remains interesting until you're sure it will last, then it grows onerous. Djokovic is not at that point yet. Again, far from it. Even discounting the possibility that his erstwhile and lately-submerged fallibility will resurface without warning – and I don't discount it – there remains the matter of McEnroe's record to keep things interesting, not to mention the fact that he can claim the No.1 spot as early as next week. Djokovic is 32-0 for 2011, the second best start to a year in the Open Era. No doubt a loss is due, but having dismissed Nadal on clay, even his staunchest detractors are unwilling to say how, or when.
The full match, and many others from this tournament, can be downloaded here.