Rome Masters 1000, Third Round
Two more contenders for Match of the Year emerged today, happy news for a season that has hitherto produced few classics. Initially, however, the prospects for even mild diversion looked grim.
Nadal d. Lopez, 6/4 6/2
We were off to a slow start when Rafael Nadal's appearance on Court Centrale was delayed by illness, which meant that once play commenced, his opponent Feliciano Lopez had to work particularly hard to capitulate lamely. Never let it be said that he isn't down to the task, although a first set fightback nearly undid some initial bad work. As ever it was the backhand that failed to save the day: when the chips are up, go with what you know. Momentarily abandoning the script, Lopez saved one match point with a superb crosscourt forehand, but thereafter he remembered himself, and pushed a deft slice wide to surrender the match a few minutes later.
Gasquet d. Federer, 4/6 7/6 7/6
The Italian Open remains one of the few meaningful gaps in Roger Federer's resume, along with the Paris Indoors and the Davis Cup. Twice he's progressed to the final, the first time going out in an upset (2003), the second in a soul-wrenching classic (2006).
I'm pretty tired of hearing about Federer's age, but there is the sense that his shot at a Rome title is slipping away, not because he isn't good enough, but because realistic chances are so few. Taking the title this year is looking very unlikely, especially now that he has lost.
Some have suggested that Federer would have won today's match had it taken place a few years ago. As it happens, it did take place a few years ago – in Monte Carlo in 2005 – and he didn't win it. Gasquet did, in a third set tiebreaker. Federer did win their next eight encounters, however, suggesting he has a pretty good read on the Frenchman's game, including an awareness that when Gasquet is firing, he finds it difficult to miss the court, no matter where he aims or how hard he swings. There were patches of that today, even from the notoriously weaker forehand.
On a warm day on a slowish court, there were torrents of winners from both men, and only a meagre assortment of errors. It is hard to argue with Federer's vaguely arrogant assertion that it was he who lost the match. Gasquet's brilliance made it close, but Federer was brilliant, too, right up until the tiebreakers, when he wasn't. We might say that the Swiss played the important points poorly, though this begs the question of what the important points even are. Surely all the points Gasquet won to force those tiebreakers were pretty vital, especially from a break down in the second.
Soderling d. Almagro, 6/3 3/6 6/4
There are only a handful of claycourters in the world better than Nicolas Almagro, and today he played one of them very close in a very fine match. Sadly, for him, he still lost, which means his European clay season has so far turned out even more disappointing than last year's.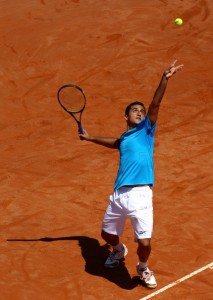 His South American adventures back in February had held out such promise, but promise counts for little unless you can deliver when the big boys turn up. The fact is, Europe is where it counts, and Roland Garros is where it counts most. I haven't checked his schedule, but I pray he hasn't gone the usual route of the second-tier dirtballer, and sacrificed a potentially deep run in Paris by chasing cash in Nice or Dusseldorf.
In its way, today's loss to Robin Soderling was better than Federer's to Gasquet earlier. There was – predictably – less variety, since neither of the protagonists boast anything like the latter pair's preternatural talents, but there was no shortage of clay court nous, and the jaw-dropping power of Soderling's forehand is worth the price of admission. It also boasted a tighter finish. It's worth finding a highlight of Almagro saving the first match point: a classic, and on an important point.
As for Soderling, today's was an altogether more accomplished performance than yesterday's against Fernando Verdasco, which isn't saying much. Next he faces Novak Djokovic, about whom we cannot say enough.