Madrid Masters 1000, Semifinals
Nadal d Federer, 5/7 6/1 6/3
Djokovic d Bellucci, 4/6 6/4 6/1

The word of the week has been 'altitude'. Apparently Madrid has lots of it, and no opportunity has been missed to point out the Spanish capital's remoteness from sea level, as though the Caja Magica is the enchanted annexe of a Tibetan monastery. To be sure, 640 metres is not sea level, but it's also not so high that the laws of aerodynamics cease to be compulsory.
Presumably there's still air. In a similar vein, much has been made of the fact that the roof was closed for last night's semifinals. The difference, it was intimated, is that it was now an Indoors Match, recalling those serve-centric blitzkriegs of the 1990s, the ones that were allegedly destined to kill tennis. On the other hand, scant attention was paid to the reason why the roof was closed in the first place, which was because it had been raining all day. The court was damp and played like treacle, even if the venue is apparently so stratospheric that there was hardly enough air to retard the ball's progress through it.
All of which is to say that it is a clay court, a fact that is obvious to the average punter but has proven harder to keep in mind for the avowed experts. Hacks sufficiently jaded that they usually take Nadal's humble pronouncements with a bowl of salt have allowed themselves to be temporarily sucked into believing the tripe:
"It's clay, Nadal is the clear favourite."
"Don't forget, the altitude . . ."
"Yeah right, the altitude. Nadal winning will be almost impossible."
So it goes. Anyway, assuming for the nonce that Madrid is actually played on clay, it came as no real surprise when Nadal and Djokovic – defenders par excellence – today set about confounding the trite theory that attack is the best form of defence. On clay, this has never held true: a sturdy defence will almost always prove impregnable for a comparable attack, or even a superior one.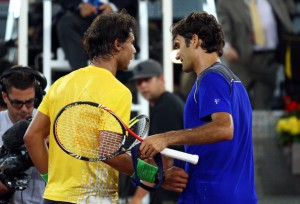 It isn't by accident that Roland Garros remained the glaring hole in Pete Sampras' curriculum vitae, though really, the whole clay swing was a sore point for him, and no one in the 90s could cover a court like Nadal or Djokovic.
For fans of Federer, numbed by the relentless discourse of decline and fall, today's semifinal was hopefully heartening. If it had been played five years ago, between younger men, no eyes would have been batted. Indeed, it was pretty reminiscent of several bygone clay court encounters between these two, particularly some Monte Carlo finals. In other words, Federer didn't lose today because he's past it, he lost because Nadal is arguably the greatest claycourter who has ever lived. Relentless attack was always going to be a long shot, but it was better than no shot, and he was nowhere near as far from winning as the scoreline suggests. Many have suggested that Nadal didn't play his best, but it wasn't the kind of encounter whereby he could. His best is based around dictating patterns, and Federer was not allowing him to dictate much at all. This resulted in plenty of errors from both men, but also some truly wonderful shotmaking, again from both. Nadal was rightly proud to have progressed.
Pride is something that Djokovic has in abundance. I'm not convinced it's doing him much good, since it sometimes seems to choke his heart, causing him to beat his chest like a maniac, as though suffering a heart-attack, or a fit. I recall he has a history of breathing issues, and this might explain why: bruised bronchials from over-pounding. He was at it again today when he finally overcame an initially inspired Thomaz Bellucci. Bellucci's faithful fans, those who've stuck with him through some lean times, will take much from this week. Mostly it will be good stuff – beating Murray and Berdych, and bossing Djokovic around for a set and a bit – but there will also be concern for his groin, which he strained. More concern than usual, that is. I last watched Bellucci play live in the first round of the Australian Open, where he overcame Mello in five tough sets. Judging by his support that day, no few of those faithful fans have been patiently awaiting their chance to examine his groin in some detail.