Madrid Masters 1000, Third Round
Federer d. Malisse, 6/4 6/3
Returning to the court less than a day after scraping through a life-shorteningly tense encounter with Feliciano Lopez, Roger Federer today saw off another talented near-contemporary in Xavier Malisse. Federer's last three matches have been against players aged 29 or 30, which, as we are reminded daily, is his age, too.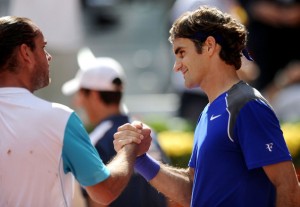 In the wider world, we like to refer to this type of thing as a 'coincidence'. Within the more limited scope of tennis reportage, it apparently indicates a clear case of something or other, and therefore has to be exhaustively dissected.
Interviewed on court after the win, Federer was unusually expansive when invited to elaborate on why Malisse has never made it to the top level of the game. It is the kind of reasonable question that almost invariably elicits a guardedly bland response from a player, and so the comprehensiveness and honesty of Federer's answer caught everyone off guard. He happily conceded that Malisse boasts an array of excellent strokes – although he suggested the Belgian's second serve was a little 'predictable' – but then went on to add that despite this, Malisse generally falls short in his application. Malisse will hit some 'magical' shots, but the physicality and 'work-ethic' required to make oneself run down balls and grind it out from week-to-week is missing. In other words, Malisse is lazy. I have often wondered whether Federer looks at Malisse and experiences a 'there but for the grace of God go I' moment. Now we know he doesn't.
Federer finished by suggesting that 'just because it all looks smooth doesn't always mean it all comes so easy, either'. Mere talent does not guarantee greatness, and it's worth considering the idea that Malisse has actually played to his abilities, or even exceeded them. It's a discussion worth having. I've noted several times before that onlookers tend to exalt talent over mere hard work. The expectations for the talented know few limits, though the capacity to feel betrayed when they do not meet those expectations is consequently vast.
Part of the problem is that Malisse and Federer entered fan-consciousness at around the same time, and were foremost in a coterie of touted next big things.
Following the 2002 Wimbledon, the standard word was that Federer was merely a promising headcase – he fell to a qualifier in the first round – while Malisse was the real deal, having progressed to the semifinals. Nine years later, however, and that Wimbledon semifinal remains the Belgian's best result in a major, and that Wimbledon is itself considered to be among the worst in living memory, not least because the last four included Malisse. His fans wait in vain for a Melzer-style late-career bloom, but it wasn't hard work that'd hitherto held Melzer back, and a work ethic is not something players suddenly discover at 30.
Federer didn't bother to point it out, but the corollary to these considerations is that his unmatched accomplishments owe less to talent, or even his oft-ascribed genius, than to his willingness to grind out matches when his game isn't flowing free. Naturally, those truly intimate with the sport know this, but it always bears repeating, along with Martina Navratilova's line that it doesn't matter how good you are when you play well, but how good you are when you play badly, or the line that you're only as good as your second serve. Cliches both, but particularly pertinent to Xavier Malisse.