Madrid Masters 1000, First and Second Rounds
It is a testament to the rankings trout-farm between 10 and, say, 30, that so few of today's ostensible upsets were surprising. The betting market was a shambles, which should have been a given, given that so few of the results were. In hindsight we might pretend otherwise, but the fact is that the merely lucky cleaned up, and the astute were left for dead, a configuration beloved by bookies.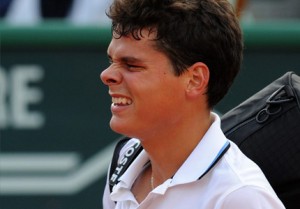 Anyway, it's all in the past, and hindsight can be permitted its frolics. Five of Sunday's finalists returned to action, but only three of them won.
Speaking of frolicking, Feliciano Lopez apparently survived the meat-grinder of Belgrade more or less psychically intact, perhaps satisfied at having pushed the preordained victor to a tiebreak on sludge. Today he was too much for Milos Raonic, whose tiredness has progressed from his limbs to his brain, inspiring a baffling tactical adjustment following an excellent first set. Thereafter he retreated, inviting the attacking Lopez to step in, a bad move in fast conditions. What ensued wasn't quite real tennis, but it was enough to earn Lopez a date with Federer. It is debatable what consolation his close chum Fernando Verdasco will draw from this, although he certainly needs consoling. His psychic lacerations following a shellacking in Estoril are clearly profound, and saw him succumb in arguably the upset of the year, going down in straights to Yen-Hsun Lu. It was the latter's first tour victory on clay in about seven decades, or years, I forget which. To put this result in perspective, Lu's last match on clay was in the first round of qualifying in Belgrade, where he lost 6/0 6/4 to Ervin Eleskovic, ranked 441. It was not an upset. It's about time Verdasco lost the watermelon pink t-shirt, but only because I don't like it. He should probably do something about his tennis, too.
Hitching a temporary ride on the debacle wagon was David Ferrer, who traded bagels with Adrian Mannarino, and Juan Martin del Potro, who stuffed his hip, was told by the physio not to continue, and then continued to beat Mikhail Youzhny.
How he'll pull up is the vexing issue, especially if you love or loathe Rafael Nadal. To the merely sane, it's merely interesting. The burbling of seeds tumbling like a brook over rocks continued steadily as Florian Mayer overcome Viktor Troicki in an unlovely match, and as Gael Monfils, for a change, retired injured.
Nikolay Davydenko, fresh from titling in Munich – they gave him a car, don't you know – contrived to lose to Marcel Granollers, who at No.50 is the 65th ranked Spaniard, and whose technique is so awkward that he almost flies to pieces with each groundstroke. But you never quite know when the Russian's worst effort is coming these days, although you know it's never far away. Today he failed to earn a single break point. What a mess.