Rome Masters 1000, Semifinal
Djokovic d. Murray, 6/1 3/6 7/6
Attempting to preserve ephemera via that most base and ephemeral of media – the internet – is doubtless a fool's endeavour, even with the all the resources in the world. Of the hundreds of professional tennis matches played each season, there are less than a handful destined to endure in the collective memories of even devout fans, and
even these few are almost exclusively drawn from several dozen matches between marquee players, and from the four Majors or – occasionally – Davis Cup. There is little use in railing against it, since the collective memory has never been capacious, and if anything the prevailing mania for documenting everything has served to enlarge it. We can now download an early round match from, say, San Jose in 2001, whereas even professional results from the 1960s are irrecoverably lost.
Of the early contenders for Match of the Year, three have occurred in Rome this week. By any reasonable measure, the tournament must already be considered a success, and the final hasn't even been played yet. Furthermore, two of the classic matches of the last decade were Rome finals (2005 and 2006), with the latter being notorious for helping Tommy Robredo to his sole Masters title the following week in Hamburg, when both Federer and Nadal were too buggered to turn up. The ruling body were so incensed at this outcome that best-of-five finals were summarily outlawed. Anyway, Rome's reputation as the clay Masters par excellence has been well-earned, and the latest installment has been one to remember. The problem is that unless the final is an epic, almost no one will remember it.
For several reasons, it is unlikely the final will be an epic. Firstly, Novak Djokovic already looked spent halfway through today's gripping encounter with Andy Murray. The second half of the match proved considerably more work than the first, so he'll surely have little left for Nadal.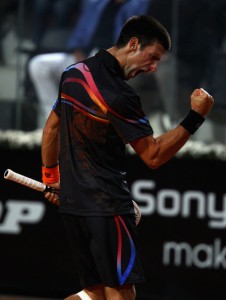 Secondly, the best-of-three format rarely produces epics, although Djokovic and Nadal have demonstrated that quantity trumps quality, so long as they hang around long enough. I speak of course of the Madrid 2009 semifinal, in which Nadal overcame Djokovic in about four and half hours. It is the longest best-of-three match in history, although that merely measures time on court, and not actual time hitting a tennis ball. It is not inconceivable that tomorrow's final will outlast Madrid, so long as they take a 45 second break between each point, instead of the usual 40.
As for today's match, which deserves to be remembered for a long time but sadly won't be, it was truly superb. It revealed nothing about Djokovic that we didn't already know, and little that wasn't explicit in a streak of 38 matches: he's the best player going around, he loves to thump his out-thrust chest, his parents are insufferable, and he's a hell of a nice guy. And Murray? It showed us that he can play well on clay. This week. Anyone who claims to know how he'll play next week or, more importantly, the week after, is foolish or wrong. He proved long ago that, when he's on, he can expose weaknesses in every opponent's game. That includes Djokovic, who today was stranded for a time in the Scot's psychic mire, and inexorably submerged. He was lucky to haul himself out with his very last gasp of breath. His overblown roars afterward suggested nothing so much as titanic relief.