Rome Masters 1000, Final
Djokovic d. Nadal, 6/4 6/4
Along with everyone else, I correctly predicted that today's Rome final would not be an epic, but again like everyone else, I was mistaken as to why. The widespread expectation was that a rested Rafael Nadal would run over a punch-drunk and success-soused Novak Djokovic.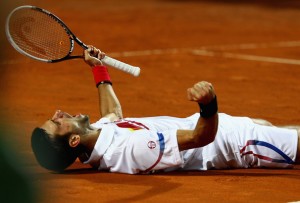 Djokovic had scrapped his way through a tough semifinal against Andy Murray, and Nadal hadn't. The day had been damp, the court was barely above sea-level, and Nadal had won every title in Rome since Mussolini's heyday, apart from 2008, when he'd lost a foot to a land-mine, or something.
Instead, we witnessed an aggressive and inspired Djokovic prevail in straight sets. The Serb was upfront about his approach afterwards, admitting that that an extended tussle was never going to work. Instead he arrived determined to hit out. On dreary clay, against Nadal, there was little chance that this would work, either. That it did work has nothing to do with luck, however, and everything to do with Djokovic, who is now operating at so stratospheric a level that he can actually choose how to beat the world's premier dirtballer on any given day, factoring in fatigue, prevailing atmospheric conditions and mood. They met only a week ago in the Madrid final, a zero-gravity environment, and Djokovic played a strikingly different match. Today he stepped in, and displayed little patience with mere neutral rallying. In Robbie Koenig's memorable phrase, he was 'vaporising' groundstrokes, apt for a guy running on fumes.
It has to be said that Nadal's approach also differed to last week's. He served with far more variation, and won 25% on second serve. He directed less traffic to Djokovic's backhand, so Djokovic opened the court with his forehand before vaporising backhands. Nadal's masterstroke, however, was to stop hitting his own backhand with any conviction, opting instead to loft off-pace junk onto the Serb's service line, whereupon it was summarily dealt with. I cannot imagine the conversation Nadal and Uncle Toni had in coming up with this 'strategy', but I can imagine their assessment afterwards. Nadal's stricken blank face at the handshake said it all.
It also declared plainly just how it feels for this proud champion to see his strongholds crumbling around him, even if the one that matters most still stands for now. It is the most keenly anticipated Roland Garros in half a decade. Whether Nadal's greatest fortress still stands in three weeks' time will determine the top ranking, and the year. In the end, these edifices are not built to last. Eventually, all that is solid melts into air. Or vapour.