French Open, Day One

Following an inevitably slow week of stuttering build-up and sphincter-collapsingly dull press conferences, the Babolat Ultimate Tennis Experience got underway today, having usefully appended itself to the French Open. Although the press releases hinted at a relationship less parasitic, and more mutual, few are buying it, hopefully.
The top guns ensconced themselves early, and set about vigorously denouncing their own favouritism. The rest of the Tour rolled inexorably into Paris like the Wehrmacht, except, ironically, for the Germans, who chilled out in Dusseldorf, guaranteeing eternal glory and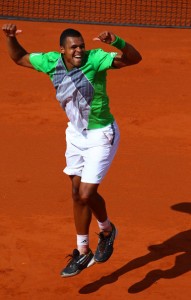 definitive weariness in capturing their fifth World Team Cup. Florian Mayer bagelled Juan Monaco on clay, proving he is worthy of his new ranking of 21. The engagingly flashy Philip Kohlschreiber swashed his buckles in going down to Juan Ignacio Chela in straights. His ranking of 42 feels about right. Little else of note occurred, apart from Robin Soderling turning up the week before he's due to mount a defence of his main point-haul. Ranked No.4 only a few months ago, there's a prevailing vibe that Soderling's ranking may be headed south, especially with David Ferrer eyeing off that No.5 spot, and being due to achieve something of note in Paris.
Speaking of Ferrer, he was one of a clutch of top players infesting the Cote d'Azur this week, along with Tomas Berdych and Nicolas Almagro. Almagro won the event in a tough three setter over an impressive Victor Hanescu, a fun way to while away the day before your favourite major starts. I said he needed to prove himself on European clay, but Nice proves little, and won't benefit his ranking one bit; he maxed the 250 component back in February.
And so, inevitably, we came to Sunday, which is the first day of main draw action at Roland Garros, a scheduling miracle that even the organisers aren't quite sold on, given how few marquee players were deployed. Rafael Nadal called a late press conference, eager to share some last minute thoughts on the near certainty of Djokovic's triumph. Unless you're a tricolor-waving maniac, it was frankly a bummer line-up on the main courts. Fortunately, most of those in attendance were lustily waving the tricolor. Marc Gicquel got lucky when Lleyton Hewitt pulled out at the eleventh hour, and then luckier still in getting to play on Lenglen. He was lucky enough against Albert Montanes, but sadly not good enough.
Over on Chatrier, Jo-Wilfried Tsonga restored French pride in short order. Elsewhere, Mannarino went down, though Benneteau got through in four. Jarkko Nieminen turned up dressed as a member of the Australian Davis Cup squad, although his too-high ranking of 50 gave him away as an imposter.
Meanwhile in the outer, Ernest Gulbis succumbed to Blaz Kavcic, winning just seven games, and committing about eight unforced errors for each of them. He is renowned for not strictly giving his best, but today he actually looked engaged, and the result was about the same. Moving forward, the lesson is clear: why try? He has now lost 21 consecutive sets at Grand Slam level. Some kind of record. Earlier, Marin Cilic poured his soul into a straight set loss to Ramirez-Hidalgo, on paper an upset, on court a shame, and a bore.
By contrast to today, tomorrow's ticket to Chatrier is the hottest in town, with Djokovic and Federer back-to-back, the latter taking on Feliciano Lopez in what is potentially the match of the round. It'll be nice to see top players do something other than feign humility, in the only environment where even Nadal can't afford to. The journeymen, not permitted the luxury of endlessly spruiking their peers, continue to plug away.