The Roland Garros draw has been released, and can be viewed here. If for whatever reason you're interested in someone else's thoughts on it, there are plenty floating around, because this is the kind of self-generating, low-overhead content that can be banged out in half an hour.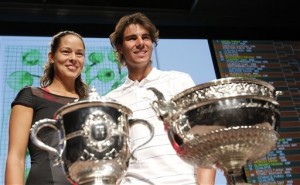 Unless the writer is suffering from whatever is afflicting this guy, then most breakdowns will basically say the same thing: Nadal and Djokovic are heavy favourites. The overall best draw previews can be found here and here.
Really, there's not a great deal to be said. Federer is in Djokovic's half and has a tricky first round again Feliciano Lopez. Murray and Soderling are in Nadal's half. Anyone who knows enough about men's tennis to have favourites beyond those guys, knows more than enough to analyse a tournament draw on their own.
The Next Point will be back in full swing next week, when first round action gets underway in Paris.
Edit: Tried to make it clearer that the draw analysis links I provided were the best of them. Apologies for the very backhanded compliments to Steve Tignor and Jeff Sackman, the latter of whom rightly pulled me up.