French Open, Day Two
Berrer d. Raonic, 6/4 4/6 6/3 6/4

Darcis d. Llodra, 6/7 6/3 6/3 6/3
As a journeyman drawing a seed first up, you'd rather face Milos Raonic than Novak Djokovic, probably anywhere, but especially on clay at a major. If compelled to choose a French seed, you'd presumably pick
Michael Llodra over, say, Gael Monfils. As it happened, neither Michael Berrer nor Steve Darcis were given much choice in the matter, but both took their chance, both in four sets.
Raonic ends his excellent clay adventure with more wins than losses, and certainly more wins than many had anticipated for him back in March. There is a prevailing expectation that he'll thrive on grass, but I'm not prepared to cede that point without reservation. Obviously his enormous serve will be an enormous asset, but serving isn't quite everything, especially on today's slower grass. For it to be the decisive factor, he will need to get his percentages up, notwithstanding the devastating curve and bite on his kicker. Returning and movement are pretty important too, and they aren't his strongest points. And all else being equal – which it isn't – the real key to grass is the capacity to hold your nerve, especially at the death of inevitable tight sets. But I digress: the second day of Roland Garros isn't the time to be thinking about grass.
Robert d. Berdych, 3/6 3/6 6/2 6/2 9/7
Sadly for Tomas Berdych, grass is exactly what he has to think about now, following a heartbreaking, come-from-ahead loss to Stephane Robert. He'll be spirited back to Ostrava, and there submit to reprogramming at the hands of his trusty Tengineers. Henceforth, he won't employ the slide so much, or the kick serve,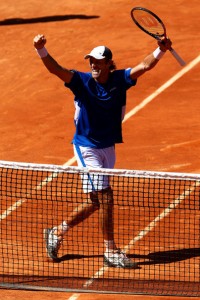 which is a shame since he didn't use them to such ineffect today, which partly explains how Robert was able to tee off on nearly ever second serve return and how just about any ball the Frenchman placed near a line was either an outright winner, or guaranteed that the next shot would be.
It would be misleading to lay the afternoon solely at Berdych's feet. Robert was fearless, which is the only way to be at two sets down, with hordes of compatriots hoarsely hollering. It's harder to remain fearless once parity is restored at two sets all, but he did. The compatriots were now flecked with frenzied froth, and Robert – who at 31 years old had claimed only one victory at Slam level – had every reason to tighten up. He didn't, even down match point. Breaking at 7/7 in the decider, the fans moved to a place beyond my powers of alliteration. He was even beyond his opponent's considerable reach, with the Czech later claiming resignedly he should have just gone for aces on every serve, first or second. He would have stood a better chance. Robert served out at 15, and Berdych, last year's semifinal, is grass-bound.
In other news: the current mania for monogramming has claimed another victim. Feliciano Lopez found a way of saving break point that I've never seen before, despite eventually losing to Federer in three excellent sets. The Eurosport coverage is the usual miracle: a mostly relentless monologue from Mats Wilander, broken only by the ad breaks at the change of ends, at which juncture they often sneak in a promo for Wilander's round-up show: Game, Set and Mats.