BMW Open Munich, Final

Davydenko d. Mayer, 6/3 3/6 6/1

Estoril Open Portugal, Final
Del Potro d. Verdasco, 6/2 6/2

There isn't a single good reason why Nikolay Davydenko and Juan Martin del Potro are closely linked in my mind, but there are any number of facile ones. It's strange how that happens.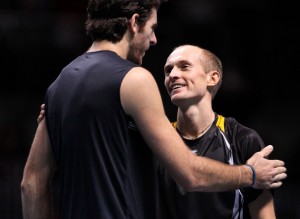 The connection began forming, or congealing, at the World Tour Finals in 2009, when both progressed to the final, proving themselves the only men up to beating Roger Federer at the O2 Arena, a distinction they still hold. The final itself was the match that inspired del Potro's noteworthy comparison of Davydenko to a Playstation set to hard mode, by which he probably just meant that the Russian ran everything down and got everything back. However, there really is a touch of game-like hyperreality in Davydenko's capacity to take the ball so absurdly early, though one suspects that a tennis game in which players struck the ball like Davydenko at his best would be widely condemned for a lack of realism.
As I say, the connections between the two are not solid. Wrist injuries ensured a lousy 2010 for both, although Davydenko's appeared not to be as bad. Both are now back, although their returns have coincided in neither timing nor manner. Del Potro already looks inexorable, even as his fans maintain a softly-softly exuberance, and mutter hopefully of the US Summer to come. Davydenko is playing some of his very best tennis, but never for a whole set, and it invariably gives way to his very worst tennis, which can look pretty bad, indeed. Often he saves it for a winning position, but sometimes he rolls it out at the get-go, just for a lark.
Both men boast truly stellar records in finals. In winning Munich, Davydenko has moved to 21-6. Del Potro, the Estoril champion, is now 9-3. Their opponents today, by comparison, are predisposed to save their very worst for last. Florian Mayer fought sternly if nervously, but now stands at 0-4 in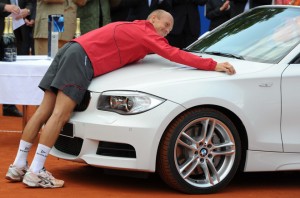 his career. At 27 there is still reason to believe he'll pick up a title somewhere, but the belief is fast becoming a quaint hope. Fernando Verdasco, on the other hand, is the proud owner of five titles, although that isn't an amazing return from fifteen finals. (Is it just me, or has Verdasco grown swarthier since returning to Europe. Otherwise he seems unchanged – the haircut remains impenetrably sculptural and his outfit still looks like a cruel dare – but following the match his face looked dark enough to match his mood, as he brooded over the confluence of cock-ups that had led him unswervingly to a bad day in Portugal.)
In winning titles today, both Davydenko and Del Potro have seen their rankings leap encouragingly, to the point where both will be seeded for the French Open, as they should be. Where they are seeded will depend largely on how they perform in Madrid and Rome, where they have no points to defend, every reason to be tired, and the capacity to wreck a marquee player's week.
The Estoril final can be downloaded here, from the ever-excellent El Rincon del Tenis.