The biggest problem with weeks like this, in which three concurrent 250 tournaments have snuck in just as the clay season hits its stride in Madrid, is that for the most part the events are disposable. Understandably, players are unwilling to risk aggravating even a niggle with two Masters and a major in the next month. Consequently, weeks like this invariably witness a record number of withdrawals, retirements and walkovers, mostly precautionary. So it has proven again today, with all three events seeing a finalist progress when their opponent pulled out.
BMW Open Munich, Semifinals
Davydenko d. Stepanek, 6/4 4/0 ret.
Mayer d. Petzschner, 6/3 6/4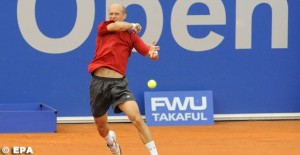 The sporadically-engaging late career of Nikolay Davydenko continues its surge and sputter from week to week. Last week he choked away a lead in Barcelona, and now he's into the final in Munich, courtesy of some vintage play and Radek Stepanek's vintage hamstring. The Russian will have a lot to gain – mostly money, but also some pride – but not as much as his opponent – Florian Mayer – who will be chasing that elusive maiden ATP title. Despite both Mayer and Petzschner hailing from Bayreuth, their semifinal wasn't especially Wagnerian, except insofar as it recalled Rossini's opinion that Wagner boasted wonderful moments, but awful quarters of an hour. The interesting bits were interesting, but they didn't come around very often. Still, Mayer will take it. He's through to his first final of the season, and his first since Stockholm last October, where he fell to Federer. I suspect he'll fancy his chances rather more tomorrow.
Serbia Open Belgrade, Semifinals
Djokovic d. Tipsarevic, W/O
Of the three events played this week, Belgrade has by a considerable margin been the least interesting, partially through being the worst attended, but mostly because Novak Djokovic is a shoe-in for the title. Djokovic's family of course owns the event, and so his attendance is virtually guaranteed, which is fortunate since his profile is the only thing elevating the tournament above, say, Johannesburg, or even the oft-derided Newport. However, as with Nadal elsewhere, inevitability merely deflates the vibe. Djokovic's spot in the final was so certain that the tournament might as well have re-instituted a 'challenge round', although it has kind of worked out that way on its own. Djokovic has so far faced Blaz Kavcic, ranked 85, and Adrian Ungur, ranked 175, and he is one match from the title. The other half of the draw was essentially a conveyor belt leading to a meat grinder, upon which hapless lambs fought for the privilege of being minced. Feliciano Lopez is the lucky lamb.
Estoril Open Portugal, Semifinal
Verdasco d. Raonic, 6/4 ret.
The most eagerly anticipated match of the moment has not been Nadal and Djokovic on clay, nor even a new installment of the Fedal tussle, but the first clay-court encounter between Milos Raonic and Fernando Verdasco. Ever since the Spaniard's ill-chosen words in Memphis – the infamous 'real tennis' barb – breath has been collectively baited to see how the Canadian would fare on the dirt. So far he's fared very well indeed: a respectable 9-2 record, counting Davis Cup.
Unfortunately, Estoril's schedule having been buggered by the weather, the last of those wins occurred only a few hours before his semifinal, a debilitating grind over Gilles Simon. Early in the first set against Verdasco, Raonic received treatment on his back, and subsequently called it a day before the second commenced. He wasn't exactly crippled, but he is due to face Lopez in Madrid in a couple of days. There's no good reason to kill yourself at a 250 event in Portugal, even with a niggle.
As for Verdasco, it counts as a win, but not as revenge.