As the tour descends with wrathful inevitability upon the dirt of southern Europe, and thence the grass, the time seems apposite to look back at the prolonged hardcourt season just ended, the one that began in Atlanta last July, and concluded a few days ago in Miami. It is a useful way to view the tennis season, as a near-perpetual hardcourt marathon punctuated by those brief hothouse months on the traditional courts of the Old World, with the year-end break merely the longest of several afforded to worn players, and inflicted on eager fans. Viewing it this way allows for a slightly longer perspective, which is always the first thing to be lost when a player goes on a monumental tear.
I will break this retrospective up into a few parts, which should not be taken as evidence of a profound structure at play, but merely as an admission that this kind of material can grow wearing beyond about a thousand words. The first part will look at some of the top players.
1. Rafael Nadal
Rafael Nadal's hardcourt season was not world-beating in and of itself, but it was an improvement on the previous year's, and coupled with his prodigious results on clay and grass, meant that the world was actually beaten. The highlights, of course, were completing the career Grand Slam in New York, and progressing to the final of the tour championships for the first time. Besides the US Open, he only claimed one other title (Tokyo), and thus hasn't hoisted a big trophy since October. 
He is unique among the top players in that the majority of his points were earned between April and July, which is hardly a coincidence, since by winning everything he left bugger-all for anyone else. This means that his ranking depends on winning everything again over the next few months, although only the stupid or the brave would wager against that happening, at least on the clay. His overall record for the hardcourt season was 53-9 (.827).
2. Novak Djokovic
There's not much left to say about Novak Djokovic right now, good or bad, well or poorly. Dominance of this level naturally inspires rhapsodic hosannas, from the most jaded hacks up. If Serbia has a national poet, there is doubtless an epic in the works. Head will presumably release immaculately produced footage of Djokovic reciting it whilst suspended by his nipple-tassles from a helicopter. The main thing to bear in mind – a murmured caveat amidst the Wagnerian chorus of approbation – is that although Djokovic has compiled an astounding 26-0 record since the World Tour Finals, he was a more down-to-earth 30-8 before that, although in his defence six of those losses came courtesy of Federer or Nadal. The point is, things change.
His overall hardcourt season record thus comes in at a very healthy 56-8 (.875), and 50-2 against the hoi polloi. Of course, since the WTF he has achieved a fearsome parity, squaring the ledger perfectly against Nadal and Federer, inflicting two and four defeats respectively. He won five titles, including the Australian Open, back to back Masters in Indian Wells and Miami, and 500 events in Beijing and Dubai. It's quite a haul, and he is deservedly the man of the moment.
3. Roger Federer
When people aren't chanting Djokovic's name in close harmony, they're composing obituaries – either gleeful or threnodic – for Roger Federer. Consequently, it's important to bear in mind just how good Federer has actually been of late. He accumulated 7,520 points in the hardcourt season, only 370 less than Djokovic, and 1,450 more than Nadal. Of the 13 tournaments Federer contested since Wimbledon, he reached at least the semifinal at all of them, and took five titles, including the Year End Championships.
His overall record of 57-8 (.877) was the best on the tour, and bears closer examination. When not playing Nadal, Djokovic or Murray, his record was an astonishing 51-1, with his only loss coming to Monfils at Bercy, after holding five match points. His record against his peers is 6-7 (4-4 against Djokovic, 1-1 against Nadal, and 1-2 against Murray). Furthermore, his 2010/2011 hardcourt season saw him gain 1,665 points over the previous year. However, he failed to pass the semifinal stage at either of the Majors, thus providing adequate fuel for the argument that he's done for.
4. Andy Murray and 5. Robin Soderling
Everyone is on Andy Murray's case a bit right now, and probably not without reason given that he hasn't claimed so much as a set since the Australian Open semifinal, and that he's been losing to duffers. But it is worth noting that his 2010/11 hardcourt season was an overall improvement over the previous one:
he is 390 points ahead. In the upper ranking tiers that hardly amounts to much, but it was enough to retain the No.4 ranking he held last July, by a meagre 125 points over Robin Soderling. The perennial narrative is that Murray is underachieving, and that the jolly Swede emphatically isn't. Until either of them bags a major that probably won't change. For his part, Soderling's big haul came with a maiden Masters title at the Paris Indoors, although he also claimed three smaller titles earlier this year.
7. Tomas Berdych
I enjoy making fun of Tomas Berdych, and even whilst crunching the numbers I find it hard to rid myself of the suspicion that his ranking is not a true reflection of his ability, which means far more than the capacity to strike a tennis ball. We'll know either way once Roland Garros and Wimbledon come round – where his big hauls reside – but it's worth conceding that he made a laudable attempt to defend his Miami final. His hardcourt season was, believe it or not, an overall improvement on the year before, by about 120 points, which is a pretty amazing feat considering he barely strung consecutive wins together in the latter half of 2010.
11. Mardy Fish
Despite poor showings at the two hardcourt majors, and missing both of the indoor Masters events, Mardy Fish put together an eminently memorable hardcourt season. This owes in large part to a truly forgettable one the year before, and to shedding some 30 pounds of ballast, which allowed him to rise 38 places. The highlights were a final in Cincinnati, and a semifinal at home in Miami. The upshot is that he is now the highest ranked American male.
13. Andy Roddick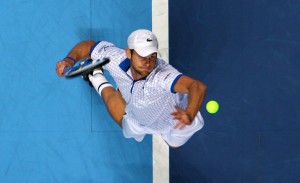 Roddick's latest departure from the top ten has inspired profound repercussions on those nearby. Fernando Verdasco has risen two places to No.8, despite being 550 points leaner than he was when the hardcourt season began. Fish, as mentioned, has claimed the top American spot. Whilst Roddick has basically nothing to defend in the upcoming clay swing, there's no reason to think he'll improve on that, though he'll be hoping to cash in on the grass, much like he didn't last year. At 29, and with an increasingly sombre game built around guiding every point slowly through all seven stages of grief, it's a dicey question whether he'll feature in London come November.