Miami Masters 1000, Final
Djokovic d. Nadal, 4/6 6/3 7/6
It is a curious and mutable nothing, that gap between success and failure. The margins on a tennis court are notoriously minute, but the margins in the mind are vanishingly small, thrumming fluctuations in probability and the dance of schizoid quanta.
The former, in clumsy inches, separate desperate wins from squalid losses, or Philip Kohlschreiber from either, but missing a line here or there won't gainsay greatness. For Novak Djokovic, the latter, immeasurable, separates a disappointing 2010 from the greatest season opening since 1986. He travelled nowhere, yet, mutatis mutandis, he discovered a mind free from doubt.
This new Djokovic looks strikingly like last year's model. The strokes are about the same – the un-kinked serve was in place long before the Davis Cup final – and his movement was always fleet and economical. The difference is that Djokovic now plays the wrong shot far less often than his opponents do, which doesn't sound especially impressive until we recall who is opponents are, that the window in which players may deliberate is well shy of a second, and that the clarity of his thinking is matched by the confident assurance of his execution. It is possibly the least exciting variety of excellence imaginable, and to the casual observer certainly lacks the charm of Federer's torrents of winners, or Nadal's martial physicality. But consider the near-perfection of Djokovic's toil: when do you see him attacking the wrong ball, or playing the wrong type of defence? Unless driven by the uttermost need, he hardly strays from an optimal court-position. There are errors, naturally, but there are almost never mistakes. Indeed, his shot selection appears so right that in immediate hindsight it looks obvious, so obvious that you're compelled to wonder how his opponent failed to cover it.
They fail to cover it because, beset by their own issues, they aren't thinking anything like as clearly as Djokovic. Right now, no other tennis player on Earth makes the best decision so consistently, and then executes so appropriately. He never looks to be red-lining his play; everything is contained, flawless.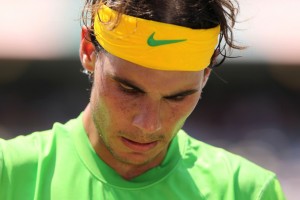 Permitted so few free points, one can only imagine how exhausting it is to play against. Actually, one doesn't have to imagine. One had only to look at the normally indefatigable Rafael Nadal as today's final came to a head, deep in the deciding set. Nadal has built a career on outlasting the other guy, but today, after only three sets in reasonable conditions, he was spent and the other guy looked pretty chipper. The points had been predictably physical, but as ever both availed themselves of extended breathers between each one, and it was only a three set match. Nadal is famed for his prowess in running down opponents in fifth sets, but this was a different matter. Once Djokovic got his act together halfway through that first set there was hardly a moment at which the Spaniard might safely drop his guard.
Come the final tiebreak, has Rafael Nadal ever seemed so crippled by doubt? His backhand was impressive when he went after it. There was an audacious cross-court winner at 15-15 5/6 in the third set, suggesting a clear way forward. But Nadal knows that the backhand is always the first of his shots to break down, and he consequently seemed to expect it would, and grew cautious, a testament to the doubt worming through his mind. The slice that he'd earlier deployed to contain Djokovic – with some success – was now used constantly for no good reason, a clear sign of muddled thinking. Each second serve return looked like a second-guess, and it proved no surprise when a flurry of studiously wrought backhand errors saw him yield momentum, capped nicely by a double fault. The irony is that when he went after it, his backhand looked quite fearsome. All the belief was now up the other end.
Four match points came, and two departed. The crowd, perhaps the most rambunctious in tennis, went predictably bananas. His cushion halved, Djokovic looked utterly calm. He knew something we didn't. With iron certainty, he knew he could beat Nadal. The gap between belief and execution had shrunk to nothing, and the lightness of the eternal victor was his.
The full matches, as well as many others from the 2011 Miami Masters, can be downloaded here.