Welcome to my continuing look back at the hardcourt season just ended. The first part, which goes into slightly more detail about why I'm even bothering, can be found here. Part One looked at the top players. This part examines a selection of the rest. I won't pretend there isn't bias in my selection, but if pressed I would insist that the bias isn't gratuitous. In advance, I'm sorry if I've missed your favourites.
16. Viktor Troicki, 18. Richard Gasquet and 19. David Nalbandian
Aside from Mardy Fish, the three biggest arrivals into the top twenty have travelled strikingly different paths: finding ones feet, returning from injury, and being Richard Gasquet, in no particular order. Nonetheless, all three are united by how little their ranking owes to strong performances at big events, a testament to the relative scarcity of points available in this range. However,
it also means that their ranking is more stable than those reliant upon a freakish run at a premier event, such as Ljubicic, Berdych or Melzer. Those guys can fall away very suddenly, indeed. For Troicki, Gasquet and Nalbandian, however, death will only come via a thousand cuts, and it's just as likely that points dropped here will be matched by gains elsewhere. Those critical of Troicki's game would do well to bear his fundamental consistency in mind. As for Gasquet, well, anything might happen there.
33. Kevin Anderson
The belief was widespread, although not generous, that Kevin Anderson claiming the SA Tennis Open back in February said more about the event than about the player. There were even murmurs that his victory was the final nail in the camel's back. The tournament is no more. Having sat courtside as Anderson succumbed pointlessly to Blaz Kavcic in Melbourne – it was on the court adjacent to one where I shared an awkwardly Seinfeldian half hour with Mikhail Youzhny – I was sympathetic to this most unsympathetic of views. That all changed in Miami, where he produced a level of tennis worthy of the top ten. Unfortunately he produced it against Novak Djokovic, so he lost 4 and 2, but he gained a lot of fans. Naturally, everyone his size has a monster serve, but unlike Isner and Karlovic he is solid off the ground, and boasts surprising agility for his dimensions. Clay doubtless won't be kind to him, but he would be justified in looking forward to the grass, and beyond to the North American summer.
41. Ivan Ljubicic
In stark contrast to the players discussed earlier, Ivan Ljubicic's high ranking of the last twelve months was largely buttressed by his extraordinary triumph in March 2010, an Indian Wells Summer for a nice guy in the twilight of his career. He scored a victory over Andy Murray in Beijing last October, which used to be a sweet achievement before Young and Bogomolov soured it for everyone,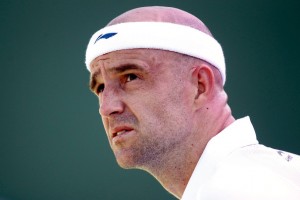 but otherwise his hardcourt season emphatically underwhelmed. At 32, a return to the top 20 is a long shot, about as long as beating Nadal and Roddick to capture a Masters title.
42. Nikolay Davydenko
By some cosmic coincidence, it transpires that the answer to Life, the Universe and Everything is the same as the question of what happens when the most finely calibrated ball striker in tennis goes off for an extended period: 42. Unlike Ljubicic, Davydenko's high ranking was based around consistently strong results at prestigious events, including victories at the Shanghai Masters and the World Tour Finals. To be where he is has required playing poorly for a long time. Something has gone missing from his immaculate game, and none of the theories sound at all convincing.
64. Lleyton Hewitt and 68. Radek Stepanek
A pair of tour stalwarts, precipitously tumbling some 30 to 40 ranking spots. Age shall weary them, and break them, it turns out. At the end of a long decade, in which one has overachieved and the other hasn't – which is which? – the only remaining constants are the hideousness of Stepanek's shirts, and Hewitt's blithe insistence that he remains a force at the majors. One is painful to look at, the other awkward to hear. That said, for Hewitt the highlight of his hardcourt season was a surprisingly successful and generous commentary stint in the Australian summer, although he wore a little thin once the supply of anecdotes dried up.
35. Milos Raonic and 70. Grigor Dimitrov
Of the young guard, the Wild Cards, it might seem counter-intuitive to lump Raonic and Dimitrov together, but I do have a point to make, since there are comparisons to be made.
Both young men have improved their ranking by over 230 spots since last July. The volume of praise lately heaped on Raonic exceeds the amount of disappointment and disapproval directed the Bulgarian's way, although the latter quantity is not inconsiderable. Raonic has of course had the stronger results – a fourth round at the Australian Open, a title in San Jose, and a runner up in Memphis – although Dimitrov has been no slouch. People say he should prove himself on the Challenger tour, so he does well in Challengers. No, he should be trying his luck against the big boys on the tour! So he plays qualifying, and battles through consistently, including strong fields in Rotterdam, Dubai and Miami. But that isn't good enough, either. Obviously at some point he'll have to start winning main draw matches, since Challengers and qualifying will only get you so far – about No.70, by some coincidence – but he is only 19. Naturally, the archetype of the all-court wunderkind is Federer downing Sampras on Centre Court a decade ago. As an image of the guard changing, it is hard to top for succinctness.
Six months ago, when Raonic was Dimitrov's age, the Canadian was ranked No.200 in the world. Since January, he has put together a run even tour veterans must envy, especially Janko Tipsarevic and Florian Mayer. The slow courts of Indian Wells and Miami were less kind to his game, although his loss to Ryan Harrison in California was an honourable one, which I'm sure was an enormous consolation. Arguably, his greatest achievement was the systematic annihilation of Fernando Verdasco's will to compete.