The story of a slow week has been a fast court. For those not following this relative non-event, which has required all the media oxygen it can get, Spain has formally complained to the ITF over the USTA's choice of surface for their upcoming Davis Cup quarterfinal.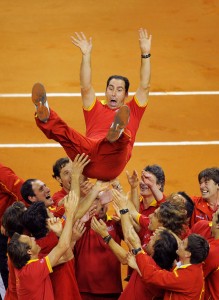 The issue boils down a rule whereby no tie can be held on a surface that hasn't been used either at a Grand Slam, or at three or more ATP level tournaments. If we boil it down further, to a bitter paste-like reduction, it's hard not to interpret this as (at best) quibbling for its own sake, or (more likely) a cynical ploy by the Spanish to limit just how lightning-slick the court will play. If it's just quibbling, they'd best tread cautiously, since in Andy Roddick they're up against a world class hair-splitter, boasting near-infinite stamina in the art of aimless carping.
The surface in question is a pre-fabricated hardcourt called Indoor Hard Premiere, manufactured by Premier Services in Baltimore. The US has used it in any number of home ties, and it is the surface that was used at the SAP Open in San Jose a couple of months ago, the event where Milos Raonic served his way to a maiden ATP title, and where Fernando Verdasco's sustained and profound slump commenced. It's a stretch to blame the surface for that particular outcome, and based on current form it's unlikely Verdasco will be picked for anything more strenuous than cheerleading, but nonetheless, it's not a court conducive to the 'real tennis' preferred by four out of five Spanish men.
The reality is that Indoor Hard Premiere is not radically unlike any other hardcourt surface, and appears to be identical to Latex-ite, also made in Baltimore, which is allowed by the ITF. Like other hardcourts, Indoor Hard Premiere can be calibrated for speed and bounce by altering the paint and sand quantities in the top layer. The only thing that might be remotely new to the Spanish players is the name of the product, but even that isn't likely, since it was used in the tie between the US and Spain in 2007 (which the Americans won). Certainly, Nadal's claims that the court is 'completely unknown' to him and his team mates is disingenuous.
Given that the surface has already seen such prevalent use, for the ITF to rule in Spain's favour would let the proverbial cat out of the can of worms. Not only that, but the Davis Cup final last December was played on RuKortHard, an indoor hardcourt manufactured by Concept 90, and which is only currently used by one ATP event (Zagreb). If Spain's current petition was to prove successful, can you imagine the quibbling the French might bring to bear?