As anticipated, and hoped for, the ITF has shown sense, and dismissed the Spanish Tennis Federation's (RFET) appeal regarding the surface for the upcoming Davis Cup tie with the United States. Common sense of course isn't, but in this case, for a wonder, it prevailed.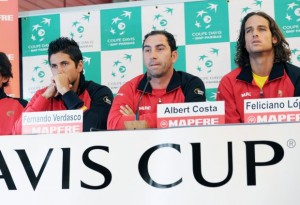 The Davis Cup Committee's ruling stated that the proposed Indoor Hard Premiere surface is readily categorised as a generic acrylic hardcourt, and is thus used in over 30 ATP events and at both Grand Slams.
Given that it is so generic, it makes you wonder at RFET's continuing assertions that it is completely unknown to them. Here is Albert Costa after the ruling was handed down: 'What worries me most is not knowing exactly what the proposed court is. We must know what to expect. However, it is essential that the ITF takes it seriously and not allow irregularities.' If that's what worries him most, then he doesn't have much to worry about. Presumably a great many pundits are contacting him already, inquiring after jobs in an advisorial capacity, eager to impart the top secret intelligence that the Austin tie will be conducted on a very fast, low-bouncing hardcourt. Given that even within the same segments of the season court speeds change markedly from week to week – think Tokyo to Shanghai – it is a conceit to imagine that players cannot adapt readily to small variations. Let's spell it out: the Americans will be serving really big, and returning their serves won't be easy. In Nadal-parlance, it will be almost impossible. The low-bounce will also be designed to negate Nadal's spin, and to protect Roddick's junky backhand as much as possible.
Regarding the speed, the Spanish are not to be denied the last word, even if that word is as petty as all the ones that preceded it. Here is Nadal, trying to teach the ITF to suck eggs:
'The most important and the main thing is to see the court and see how it is. The fastest [courts] I've played on are in Tokyo and Montreal. If the Austin court is faster than these,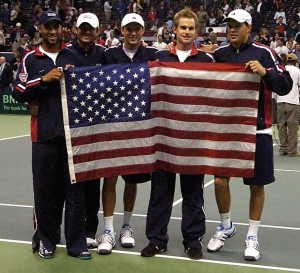 then you have grounds for complaint, because it is illegal. But I know that the ITF has equipment to measure speed the ball and not allow it to violate the limits. However, we all know that when we play away, they always put in the fastest courts they can.'
First of all, being faster than Montreal and Tokyo is not illegal, since while those courts are fast, neither is at the upper permissible limit. I might be wrong, but I suspect the Paris Masters was faster last year (although sadly not in the years preceding). In any case, the Davis Cup Committee ruling already stipulated that the surface must adhere to  Rule 38 (b) ("Court Pace Rating (CPR)"), and that the speed of the court will be tested by the rather impressive-sounding ITF Science and Technical Department. It's hard to see Nadal's insistence as anything but gamesmanship. He might as well insist that the tie is umpired fairly. It must be presumed by all parties that it will be, and to make a point of it would be to imply it might not be. Coming from the world No.1, all it does is undermine the sport's governing body, a bad business.
This idiotic affair has largely run its course, although its leavings will inevitably soil the ether for a few more days. The upshot is that nothing has changed, and no one has emerged better for it; in every sense, a waste of time.