Monte Carlo Masters 1000, Final
Nadal d. Ferrer, 6/4 7/5
I am proud to declare, without a trace of deceit, that I picked Rafael Nadal to win the Monte Carlo Masters. Impressive, I know, but quell your awe. Stay your adulation. Given that his chances of not winning were roughly the same as my chances of surviving a thermonuclear strike to the face, it hardly ranks as a classic act of prognostication.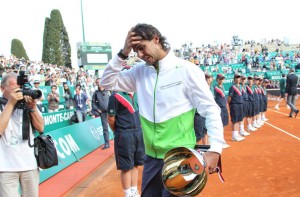 Still, so certain was I of Nadal's eventual triumph that I would have put money on it, had that been feasible. Sadly, the odds were so poor that even a $10 wager on Nadal would have resulted in rugged men storming my home and beating up one of my dogs – presumably the one I like – just to teach me not to be a smart-arse. It was right there in the terms and conditions. Speaking of which, placing a bet on any clay tournament at the moment yields this delightful warning, displayed not in the fine print, but bolded front and centre: 'This market will be void if Rafael Nadal is a non runner'. In other words, without Nadal, all bets are off.
I can hardly imagine a more succinct summary of the current clay season, or indeed every clay court season for the last six years. Nadal right now defines the limits of the surface, and the easiest way to delineate events is between those he graces and those he doesn't, which rather tarnishes the so-called Golden Swing. Monte Carlo has demonstrated that form isn't even a factor.
Nadal was frankly sub-par in the final, and so cautious that his few flashes of aggression are easily recalled and quickly recounted, such as the forehand winner on the second last point. Yet he dispatched David Ferrer in straight sets. Indeed, Nadal dropped only one set all week, which became a story in itself, though he was in no danger of losing.
Nadal won't win Monte Carlo for ever, but he may do so long enough to see it brought low, or at least lower. For those lobbying to see the event demoted to 500 status, seeing the Spaniard claim it for the 73rd time is only further proof that it doesn't warrant Masters 1000 status. For all that it doesn't make a great deal of sense, I can kind of see their point: the predictability of the outcome lends the whole affair a vaguely deflated vibe, draining excitement as surely as the prevailing country-club atmosphere. Even Robbie Koenig and Jason Goodall didn't bother to show up. Still, of all the arguments in favour of demoting Monte Carlo, this is about the weakest. A better argument is that no Grand Slam requires three Masters events in the lead-up, and that there really should be one on grass.
It is possible to be seduced into thinking something will last for ever, merely because it feels like it is. Viewed from within, the interminable looks just like the eternal. Nadal will obviously lose another match on clay at some point, although no one can quite say to whom. Talk of Novak Djokovic (who has never beaten Nadal on clay) has lately given way to Nadal's knees (which have). The world No.1 is in Barcelona this week, determined to revisit the exact schedule that so effectively derailed his 2009. Last year he skipped Barcelona, and won everything that mattered. The lesson seems clear enough, especially for his fans, whose howls of disapproval are set to lift the roof. Then again, they were the ones who predicted that a second set let-down against Murray indicated a sure win for Ferrer in the final. If they were so sure, they should have put money on it. The odds were excellent.