Miami Masters 1000, Semifinals
Nadal d. Federer, 6/3 6/2
Of the four guys who contested the semifinals of the Miami Masters today, only one of them played to his abilities. Unfortunately for Roger Federer, that exception was Rafael Nadal. Consequently, their result looked more or less foregone by the time Nadal broke for a second time to take the opening set, and didn't take much longer to become a fact.
If we consider Federer's four losses this year – three to Novak Djokovic, and now one to Nadal – in none of them did he play anything like his scintillating best, and so it's hard to fault him when he goes on insisting that his best is still good enough. It probably is still good enough, but that isn't really the problem.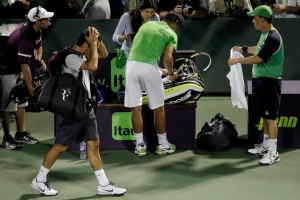 The real issue is that his best is not being produced when it matters most, when facing the sternest opponents at the pointier end of the draw. That's what isn't good enough, though you have to figure the opponents have something to do with that. They're exactly the wrong guys to face when you're having an off day.
It's worth mentioning the Miami surface, but only because others have. It's more worthwhile to discount it as a factor. The dreaded purple clay clearly favoured Nadal, but equally as clear was the fact that the match was nowhere near close enough for it to matter. Equally we could say that Nadal was lucky in saving the only breakpoint he faced (and he was, clipping the tape on an overhead to wrong-foot Federer). But the fact that he faced no other breakpoints had nothing to do with luck, and everything to do with a prudent gameplan executed diligently.
The gameplan was simple enough that Nadal could adumbrate it in a few short sentences in his exceedingly gracious post-match interview: serve a high percentage of first balls to Federer's backhand, go deep to said wing whenever he could, and stay away from the forehand. Insofar as Federer's forehand was often in play, we could say that the Spaniard wasn't wholly successful, but that is to quibble. In any case, no small proportion of Federer's heroic 38 unforced errors came from his feared forehand, so there was no harm done, at least none to Nadal.
Djokovic d. Fish, 6/3 6/1
Notwithstanding a certain similarity in the scorelines for today's matches, the encounters were nothing alike. As alluded already, neither Djokovic nor Mardy Fish were particularly impressive today. The difference is that the Serb boasts any number of backup plans to which he can resort, and nearly all of them will see off most of the tour, whereas Fish today would have struggled to beat James Blake. Blake, for interest's sake, was the last man to supercede Andy Roddick as American No.1, while Fish is the latest. Blake's success was built around blistering court-speed and a ferocious forehand. Fish's success is built around everything besides speed and a forehand.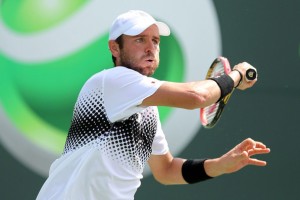 The superficial comparisons are endless, and not very diverting. More meaningful is how both men rely on near constant attack, and how impotent they look when it's just not happening. Blake's malingering career has become a set of bombastic yet fragmented variations on this very theme. Today we were treated to an alternative rendition.
The extent to which it wasn't happening for Fish was hardly short of astonishing. It is not uncommon for fans of all sports to insist that an opponent did nothing special, and that their favourite player or team really beat themself. But Djokovic really didn't do anything special, and I would hardly claim Fish as a favourite. I could say Djokovic simply got the balls back, but that's often all he does, and it is something one can do more or less well. Generally he does it very well indeed, but not today. Fish – ever the aggressor – was creating no shortage of openings, even on big points. Faced with hectares of open space, Fish would go for the lines, but unfortunately not the lines that border the singles court. Presumably Djokovic's notorious new aura of invincibility was scrambling the radar in the American's head.