Barcelona Open Banc Sabadell, Semifinals
Nadal d. Dodig, 6/3 6/2
Ferrer d. Almagro, 6/3 6/4

Sadly, RFET's Davis Cup kerfuffle has dominated tennis headlines, and has thus easily claimed line honours as Bummer of the Week. Although somewhat overshadowed, there has actually been a reasonably meaty tournament going on in Barcelona: the Open Banc Sabadell. The reigning champion is Fernando Verdasco, although he isn't the defending champion, having thrown a hissy-fit at some perceived slight, and taken his balls home. It hardly mattered either way: Rafael Nadal turned up, and no one else will be winning.
The world No.1 is through to the final, having somehow emerged from his toughest match of the week, a routine 6/3 6/2 win over Ivan Dodig, who I'll come to shortly. The important point is that this was Nadal's 500th tour level victory, and that at 24 years and 10 months he is the second youngest man to achieve this milestone (Bjorn Borg achieved it at 23 years 7 months, which may never be topped). Reminded of it afterwards, Nadal was less than fascinated, noting with wry bemusement that he had been on the tour for nine years. His eyes have assumed the horizon-bound glaze of those whose business is with history, by whose perspective 500 wins is no more useful than 499, since so many players have gotten there already, including Roddick, Hewitt, and Federer.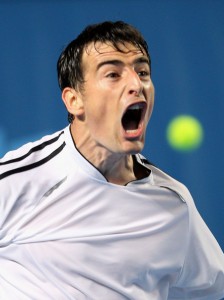 Unless he manages to surpass the latter's major haul – and doing so is not beyond reason – his path to even fleeting immortality is made of clay, and mostly Parisian. His immediate goal, of course, is Roland Garros. As for Barcelona, winning it is a minor step towards that, like, say, Pete Sampras winning the first round at Wimbledon. It has to be done, but you don't need to dwell on it.
For Ivan Dodig, however, it has been a bigger deal. Prior to this week he had barely won a tour-level match on clay, but he is a fighter, and has proved more than capable of battling through a wide-open quarter. His win over Milos Raonic was reasonably hard-fought, although the latter was not at his best. No one is quite certain what Raonic's best even looks like, but there's broad consensus that it involves lots of very big serves, and his numbers against Dodig were well down. A bigger test awaited Dodig in Feliciano Lopez, who of all the Spaniards is the least virtuosic on clay, although it is essential to keep this in perspective. He is still Spanish. He's also a smouldering dreamboat, which meant his encounter with the Croatian provided rich contrasts from both stylistic and visual perspectives. With his flowing locks, manly jaw and bedroom thighs, Lopez was sharply at odds with Dodig, who looks like an unmade bed. Nevertheless, Dodig fought his way through that, too, and has entered the top 50.
Speaking of entering top anythings – and vain Spaniards with a surfeit of testosterone – as predicted Nicolas Almagro has made it to No.10, which was a cherished goal of his, and is a frankly stellar achievement for Spain's third best claycourter. Unfortunately he encountered the world's second best claycourter in the semifinal –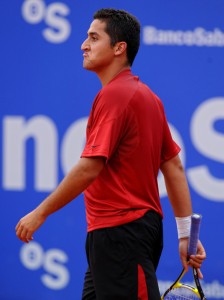 David Ferrer – and went down in short order. Prior to that however, he'd pushed through some interesting matches, although the interest lay mainly with his opponents. If we accept for the moment that Almagro is a genuine top ten player – and the evidence is overwhelming, consisting of a 10 next to his name on the ATP website – then one would have to concede that Nikolay Davydenko still has the ability to rank somewhere above that. Until he stepped up to serve for the first set, he was clearly a better tennis player than Almagro, even on the latter's preferred surface. The question of why he choked from then on is the real issue. Jason Goodall went on a bit about his having switched racquets, though the Dunlop was good enough to get him to 5/4, ripping the ball gorgeously from both sides. Someone else proffered the explanation that his issues are 'psychological'. This is almost certainly correct, and even more certainly useless. We might as well say the Titanic sank due to the ocean, when we really know it was Leonardo DiCaprio's fault.