Paris Masters, 2000, Final
Safin d. Philippoussis, 3/6 7/6 6/4 3/6 7/6
Scanning the long list of champion tennis players in the Open Era, I note many whose achievements are qualified by an asterisk, and that not all asterisks are created equal. Some are benign blobs, like knobs of coral, and tell you little, merely that this or that player's opponent defaulted in a final, or that they won a gold medal in doubles whilst partnering Roger Federer.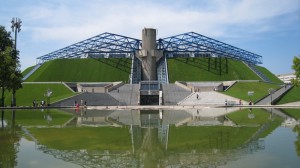 Other asterisks, however, are nasty,  festooned with wicked hooks and cruel serrations. Almost exclusively, these vicious little bastards are reserved for colossally skilled athletes who have wasted their talents. There is a special place reserved in the tennis underworld for those who could have been so much more, even if they were usually lucky not to be less. Andre Agassi's second career, with its monk-like austerity and cloying modesty, was a sustained and ultimately successful attempt to escape his fate. Andy Murray had better get his act together. As for David Nalbandian . . . well, tick-tock.
On this list of champions, no names boast more fearsome asterisks than Marat Safin and Mark Philippoussis. Regardless of their achievements, which are not inconsiderable, they could have done much more. There are any number of broad similarities to be drawn between the two, who were friends on the tour, and appear still to be. Both were large men, topping 6'4'', and outstanding athletes. Safin was the superior mover, and was better off the ground, while Philippoussis had a more terrifying serve and more aptitude around the net. When either was on, he was unplayable. Indeed, each announced his arrival by proving unplayable for the great Pete Sampras; Philippoussis at the 1996 Australian Open, Safin at the 2000 US Open. Philippoussis, by four years the senior, had to contend with living through the Sampras Era. Safin chose his heyday even less wisely, and his regular and occasionally heroic losses to Federer are an important part of why so little of his potential was realised.
Nonetheless, Federer was a part of why, but he wasn't all of it. Safin was a bigger part of it. All too often, especially in that long twilight following the 2005 Australian Open – a beautiful sunset we all mistook for a dawn – he would fall in ridiculous fashion several rounds before a top opponent could lend the defeat some credibility.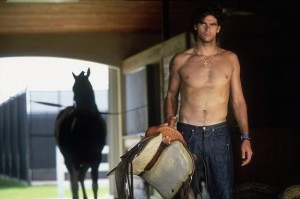 By 2007, Safin's losses were no longer upsets, even for his fans, who would join the giant Russian in gazing skyward, muttering darkly as they probed the heavens for answers. Injury of course played its part, and it played an even bigger one for Philippoussis, for whom pro tennis was only ever one of a number of hobbies he squeezed into an otherwise unremitting schedule of knee surgeries and surfing.
Back in the autumn of 2000, this all lay even further in the future. The Australian was on one of his early comeback trails, harnessing the form that led him to a US Open final, and to capturing the Davis Cup the year before. Safin was still very much bursting though. His demolition of Sampras at Flushing Meadows remained fresh in the mind, and to casual fans he looked for all the world like a tennis robot sent back from some alternative future dystopia. It was a future that didn't seem far off, since by winning the Paris Indoors, Safin would capture the No.1 ranking, presumably as a prelude to taking it out the back and having it shot. He had dismissed the talented Juan Carlos Ferrero 6/2 6/2 in the semifinal, swatting a mosquito. For his part, Philippoussis had overcome the popular and incongruously-shorn Gustavo Kuerten in a pair of tiebreaks. Both the big men had come to play.
And so they played, and they played a classic. Some notes from the match:
Other than double faults and aces (which were equal), Philippoussis proved superior in every statistical category, right down to total points won (165-153). He broke more times, and won more points both serving and returning. An elegant illustration that some points really are more important than others: Safin won the last point of the match.
The knife-edge second set tiebreak is outstanding, among the finest I've ever seen.
If people remember anything from this match, it tends to be Safin's spectacular wound at 3/3 in the third, when he dives for a volley, only to have his racquet bounce off the court and gouge a chunk from his brow. There is an extended medical break as he is patched up on court. Philippoussis predictably loses focus, and yields the decisive break in the following game. After the match, Safin asks to cut short the presentation so that he can rush to hospital.
The Australian's intensity skyrockets as the fourth set gets underway, which you can only surmise from watching his play, and certainly not from his body language or face, which remains as placid as ever. He commences a series of dynamic chip-charges on Safin's second serves, almost breaking in the second game. It pays off in the sixth game, as he breaks to love.
Philippoussis was not considered a great volleyer in his day, yet by today's standards he seems downright virtuosic. It is startling to see the drop volley be used sparingly – even appropriately – rather than exclusively.
The fifth set tiebreak is predictably high on drama, with Philippoussis saving five match points, including three in a row from 3-6 down. Several of the those points are on Safin's racquet, and his arm looks leaden as the shots spray wide.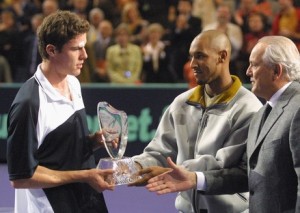 Watching the match again, for the first time since it aired live, I'm struck by how accurate my memories of it are, which is by no means the norm. The only thing missing is the blanket of foreboding that settled around me as the fifth set wore down, and Philippoussis eked out grim holds to attain the supposed succour of the tiebreak. I suppose I must have been a fan at the time, although the sensation has long since evaporated.
The other thing it brought back to me is something I didn't notice at the time, but which grew familiar to all tennis fans over the following decade, which is that scowl Safin would acquire as the weight of the boulder on his back grew crushing. His capacity to be personally affronted by circumstances realistically beyond his control was infinite, and essential. On court, a sense of proportion was the last thing he had. Later, it would cost him countless victories. At the Paris Indoors in 2000, it didn't, barely.
The full match can be downloaded here.