Miami Masters 1000, First Round
Del Potro d. Mello, 6/4 6/4

Insofar as anyone can look ominous in canary yellow, Juan Martin del Potro is looking ominous at the moment. Thankfully, he is, like Roger Federer, favouring Nike's more appealing visually-dense yellows, as opposed to the lurid travesties lately unleashed by Lotto. And he is leagues from the sartorial train-wreck that adidas has inflicted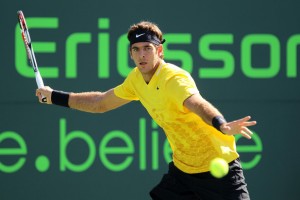 Fernando Verdasco, an outfit that may take some attention away from what's on his head, but sadly can't help with whatever is happening in it. Then again, having chosen to look like a watermelon cross-bred with a swarthy pineapple, perhaps it is only fitting that the Spaniard plays like one.
Anyway, back to the ominous del Potro, who is looking so formidable not because he is producing consistently astounding tennis but because he is astoundingly consistent: he is beating everyone he should. This is about the last thing you can reasonably expect of a guy returning from a career-threatening injury. Indeed, he is making the comeback trail look considerably smoother and straighter than he has any right to, since it's mostly fashioned from loose shale, skirts any number of precipices and snakes through the odd minefield. There are plenty of opportunities to misstep. I can hardly recall a player stepping so suavely or surely.
He was ranked No.484 as recently as six weeks ago. At the time I hazarded the amazingly controversial opinion that this ranking was not a true reflection of his ability. My views, tentatively proffered, were met with howls of indifference, but I now stand vindicated. Following his semifinal run at Indian Wells last week, he looms on the cusp of the top fifty.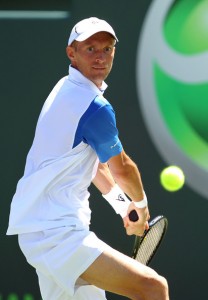 I'm willing to stick my neck out again, and suggest that with zero points to defend he may go even higher after Miami. Take that to the bank. If, like last week, del Potro navigates another quarter of death – including Philip Kohlschrieber and Robin Soderling back-to-back – he will return to the top thirty.
Anderson d. Davydenko, 6/4 6/3

If that happens, he will pass Nikolay Davydenko, who proved so utterly impenetrable when the two last met in the season finale's final back in 2009. Davydenko improved his ranking by about three spots in losing to Kevin Anderson today: he too has no points to defend. As a former Miami champion, he presumably had plenty of pride at stake, but whatever existential malaise is now afflicting the Russian has grown so consuming that pride wasn't sufficient to get it done. Davydenko's wrist injury was nothing like as severe as del Potro's, yet in some way that no one has yet fathomed, it appears it was much, much worse. For so rare and gifted a player, one who has ever been denied his due, this strikes me as a surpassing shame.