Indian Wells, Final
Djokovic d. Nadal, 4/6 6/3 6/2
Is it fitting, or merely coincidental, that the last two men to defeat Novak Djokovic in a tennis match were Roger Federer and Rafael Nadal? Perhaps it's both, or maybe it doesn't matter. The losses occurred last November, at the O2 Arena, but they feel like ancient history, as though they happened in the Colosseum. Not the ruined one, mind you; the original one, the one in Gladiator, that film in which Russel Crowe embodies a Spaniard so convincingly that he has to be referred to as The Spaniard, and visits on the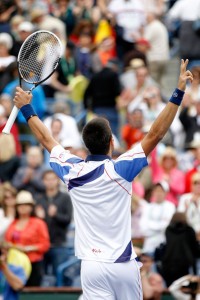 Roman Empire a level of ferocity usually reserved for recalcitrant concierges. Today Nadal was more believably Spanish, but otherwise fell short of replicating Crowe's endeavours. El guerrero imparable fue detenido.
He was stopped, of course, by Novak Djokovic, who has now won something like 20 consecutive matches (counting the Davis Cup, but excluding the Hopman, as the cognoscenti are wont to do). An imperial victory today delivered the Serbian his sixth Masters 1000 title, recovering from a set down, and romping home in the decider. He looked exactly like the best player in the world on hardcourt. It was a particularly slow and bouncy hardcourt, it's true, but he still looked like the best player on it.
Nadal and Djokovic present an intriguing match-up, one that I am generally determined to savour. Like Andy Murray and Juan Martin del Potro, the Serbian's exceptional double-fisted backhand largely negates Nadal's great strength, which is the humming, curled forehand rearing at the right-hander's left shoulder, forcing them into a lateral stretch and a literal retreat: back and across, until he puts you away. Boasting the kind of technique that can withstand the many thousands of RPMs Nadal inspires on the ball, Djokovic stands his ground, even redirecting those balls up the line. Thus limited, Nadal is compelled to expand his game and improvise, to seek alternative means of spreading the court. He is good enough to do it, and watching him figure it out is where the interest lies.
Having said that, as determined as I am to enjoy the match-up, I invariably don't. It is very disappointing, much like reclining on the couch to watch the big game with a bag of pretzels, and then realising that you don't much care for pretzels.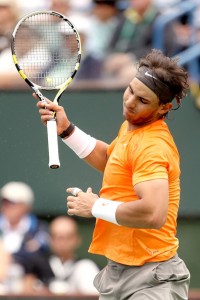 Their's is a rivalry that for sheer volume surpasses Nadal-Federer, yet there have been almost no outstanding matches, and I have forgotten neither the overrated US Open final of 2010, nor the allegedly epic encounter in Madrid, in which an entire suite of commercials could be aired between each point. They play slow, but that's hardly the issue. The real issue is that they rarely play well for long at the same time.
So it proved again today. Nadal was excellent in the first set. Djokovic was superb in the last, which is obviously when it matters most. Both underwhelmed in the second, although by serving at 25% Nadal ensured he would win the race to the bottom. For a wonder, Nadal didn't rebound the way he usually does. It's worth remembering that only days ago he scrapped home against Ivo Karlovic by the narrowest of margins. Indeed, it should be borne in mind that Nadal hasn't claimed a title since Tokyo last year, and that the highest ranked player he has beaten this year is Marin Cilic, whose ranking week-to-week only bears a tangential relationship to form or ability.
Nevertheless, the clay season is mere weeks away. Nadal has a phenomenal number of points to defend, but who is willing to bet he won't defend most of them? Djokovic may be the master of the hardcourts, but we're about to be reminded what surface dominance really is. By the time The Spaniard returns to Rome, he may be, once more, unstoppable.