With the year's first major concluded, the annual diaspora has commenced, with the haves retiring to their palaces, and the hoi-polloi spreading to South America, South Africa, and West Croatia. As an Australian, this signals the end of tennis being played at a reasonable hour, until the Asian swing in late September. As ever, the general Sehnsucht is profound, pretentious even. So many questions, mostly unanswered. What did it signify? What did we learn?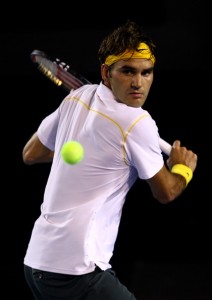 1. We learned that Roger Federer is done for. Actually, did we? The great man looked reasonable en route to the semifinal, whereupon he was out-manoeuvred and out-hit by a rampant Novak Djokovic. Federer played decently, but he was hardly in the mode commonly and lovingly dubbed 'full flight'. Still, he has accrued Grand Slam titles playing no better – the 2006 Australian Open leaps to mind – but at no point in those tournaments did he encounter anything as fearsome as Djokovic in this form. Coming to Melbourne, Federer was clearly the man to beat, and his fans shouldn't be too dismayed that someone did. The man himself didn't look especially beaten afterwards; he knew he'd played a reasonable match, but that Djokovic was a class above. As the first set grew furious, Janko Tipsarevic was heard on Twitter: 'Federer vs Djokovic tennis level is just insane….' I was immediately put in mind of that scene in The Matrix when the crew of the Nebuchadnezzar gathers round breathlessly to watch Neo and Morpheus spar. If Federer can elicit this kind of response from a fellow pro when not playing his best, I would hazard that he has some game in him yet.
2. We learned that Juan Martin del Potro's comeback is going to take some time. Anyone with a brain not composed of lime jelly already knew that, but now those with cerebral damage know it, too. There had undoubtedly been a cherished hope among his fan-base that the giant Argentine would miraculously storm his way to the title.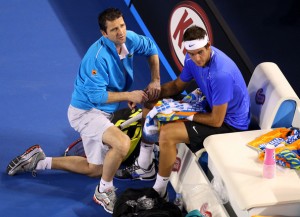 But when he followed up a tough win over Feliciano Lopez with a meek loss to Florian Mayer, then contrived the same combination with Dudi Sela and Marcos Baghdatis respectively, the message was clear. The message had been clear for some time, since he'd already told us: the return will take months, not weeks. Even this is sounding optimistic.
3. We've learned that Channel 7's tennis coverage still languishes somewhere shy of perfect, even with John Alexander otherwise occupied (an answered prayer, that one). That said, Eurosport was worse, since it featured the endlessly painful Mats Wilander, and the painfully ebullient Barbara Schett. Understandably, English is not Schett's first language, but this can often work in one's favour. Played right, it can lend a certain exotic allure. Schett, who routinely conducted some of the worst post-match interviews ever witnessed by humankind, just sounded like a half-wit. ESPN was, as ever, best avoided, since you knew what to expect: a celebration of commercial patriotism that was only outdone by the locals through home-court advantage. In terms of coverage, the stand-out was once again AO Radio, streamed through the Australian Open website. It was ideal when synchronised with the images on television, although this rarely worked because Channel 7 kept delaying the broadcast in order to reliably miss the first point of each game, and the first game of each set.
4. We learned that the first reward awaiting young players breaking through is being saddled with a tired comparison to a former (or even current) great. Thus Milos Raonic is the new Pete Sampras. Alexandr Dolgopolov is the second coming of Marcello Rios, and Bernard Tomic is the fifth coming of Miloslav Mecir, an egregious comparison given that the 'Big Cat'
was so nicknamed for his nimbleness. Grigor Dimitrov, who is currently suffering under a near-meaningless two-week suspension for striking an official last year, is the latest 'Baby Federer'. (Richard Gasquet, the first 'Baby Federer', has his sights set on becoming the next James Blake.) Really, what we've learned is that too many fans and journalists are united by their inability to come up with an original way to describe new players. Furthermore, their paucity of expression results in pointless pressure. When you suggest someone plays like Pete Sampras, you aren't just saying their style is vaguely reminiscent. You're forming an association, creating an expectation, and ensuring that the poor kid will have to field absurd questions about it sooner rather than never. Mark my words.
Perhaps we've only learned that most sports journalism is complacent and self-serving, but we already knew that.