Australian Open, Final
Djokovic d. Murray, 6/4 6/2 6/3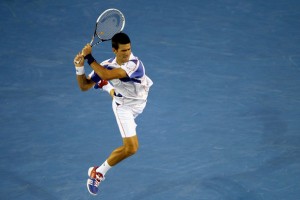 Channel 7 didn't exactly redeem itself at the eleventh hour – we're way beyond that – but it could have been worse. Of course there was the usual ear-jarring nonsense – 'Djokovic is asking a lot of question marks out there' – but at least Bruce McAveny got to serve up a line he's clearly had on the stove for a while: 'The Djoker becomes a king!' There was even a touch of feathery irony that I'm going to assume was deliberate. As the players made their way onto court, the master of ceremonies Craig Willis – whose liquid tonsils and dry delivery have helped make AO Radio such a pleasure – announced: 'Representing Great Britain, Andy Murray!' The coverage director allowed themselves a momentary caprice, and immediately cut to a placard proclaiming 'Great Scot'. A telling disjunction between words and images, the gap where meaning lurks. The important point here is that no Scottish man has ever won a major. I might be wrong, but I think that's what all the hoopla is about. Frankly, it has been generous of the English to get so excited on Scotland's behalf. Now that Andy Murray has lost his third major final, I'm sure they will be generously leading the charge to trample him.
I don't really subscribe to a structuralist approach to sport, and am slow to succumb to it when invited to. In general, there is too little acknowledgement of things like coincidence and just having a bad day. That said, after three Grand Slam finals in which Murray has failed to take a set, and in which he has gone relatively meekly into that goodnight, I have to wonder if there isn't something fundamentally flawed in his approach. This is a guy who owns the Masters Series format – he has six of them – last year defeating Roger Federer in two finals, the second one a comprehensive hiding. He's good enough to win majors, especially when there isn't an inspired Swiss guy up the other end. But this latest effort, whereby he fell to a superb Novak Djokovic but wouldn't have troubled an ordinary Tomas Berdych, shakes ones faith that Grand Slam success is inevitable. Time will tell, eventually. More immediately, the issue will be how Murray recovers. Last year's loss inspired a five month slump. This year's loss was worse, through recycling the sins of the past. Hopefully the Scot has grown more resilient.
Anyway, enough of Murray. Novak Djokovic won, and was superb. Regarding his game, there isn't much to say that wasn't said by everyone following his victory over Federer, and that hasn't been said for years. The only thing that really came home to me tonight was how perfectly Djokovic strikes the balance between offence and defence. He is almost never in the wrong mode, unlike his opponent, who was often in neither mode. That balance is a very hard one to achieve. Successful defending – and tonight Djokovic was truly outstanding – frequently inspires a player to grow passive, and to invite attack.
Relentless offence can make it difficult to pay proper respect to an opponent's shots. Doing both at the level at which Djokovic did so is a very rare accomplishment, and not one confined to this final. It's been a feature for the entire tournament, and the reason he has looked so unbeatable.
To a large degree, Djokovic has been unbeatable, dropping only eight matches since Wimbledon, and all but two of those to either Federer or Rafael Nadal. That's a solid base, and when you throw in a Davis Cup and an impeccable Australian Open title, you can expect he might start losing to those guys a lot less. I notice Djokovic had a little 'Nole' embroidered on the tail of his Sergio Tacchino polo. Perhaps I'm over-reading it, but it suggests he feels like he belongs in the company of the Big Two, who are not hostile to monogramming. Their other vanity is stamping their bags with their major title tallies, like Spitfire pilots advertising confirmed kills on the fuselage. Djokovic would have looked frankly stupid with just one stamp, but he'll look a great deal less so with two. Based on tonight, who is willing to wager he won't have a third stamp before the year is out?
The full match, as well as many others from the 2011 Australian Open, can be downloaded here. As ever, please avoid highlights.