SA Tennis Open, South Africa

Greul d. Raonic, 7/6 6/4
The supercharged Milos 'Pistol' Raonic bandwagon roars on. His excellent Melbourne adventure saw him advance some 58 spots, departing Australia at No.94. His momentum has carried him into the SA Tennis Open, where he has once again burst through qualifying, and then upended the No.2 seed Yen-Hsun Lu in the first round.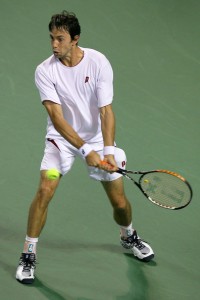 The bandwagon is picking up a lot of new passengers – friends accrue when the weather is fair – and there was even spirited talk of him taking the event. After all, this is the kind of shindig made for breakthrough titlists. The top seed was Feliciano Lopez, which says it all. Regrettably, predictions of a maiden ATP title came to naught. It is frequently the way for the youngster on the make. A scintillating upset win is immediately contrasted by a disappointing effort when they should well have fancied their chances, especially if the opponent is a no-nonsense veteran like Simon Greul. Did I say no-nonsense? Actually, Greul seemed determined to blow it, double-faulting away a couple of match points before stumbling home, sheepishly.
Raonic should not be too downcast, and nor should his myriad new friends (although some have decamped at the first hint of clouds). This kind of thing happens to all the greats on their way up: Pete Sampras followed up his first US Open title by folding to the arch-Gallic and 134th ranked Guillaume Raoux. Sorry, that's precisely the comparison I swore I would eschew. Another important lesson for Milos!
A surpassingly strange and unrelated aside: did you know that googling 'Raonic Greul' yields a great deal of information about 'organic gruel', almost none of it interesting?
PBZ Zagreb Indoors, Croatia
Brands d. Karlovic, 7/5 6/7 7/6
But for that single break at the death of the first set, this is the scoreline that will be chiselled into Ivo Karlovic's tombstone. It tells you almost everything you need to know, about his tennis in any case. Watching this match slowly congeal – predictably, tediously, with the returner numbly trudging across the baseline – I was reminded that Karlovic doesn't play matches, he inflicts them; on opponents, on the crowd, on the sport. He seems like a gentle, sensitive kind of guy, somewhat doleful. I wonder, in all earnestness, does he have a single fan outside of Croatia? It is not a generous question, granted. But even John Isner can boast support across the globe, although compared to Karlovic – and Daniel Brands – he's a bona fide thrill-machine.