The most rewarding thing about the disparate little events huddled in the shadows of the Grand Slams is how, lacking the cachet to pull big names, they tend to attract sizable contingents of locals, provided there is a contingent available.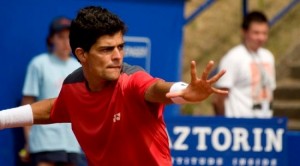 This can prove interesting for any number of reasons, mostly due to prevailing conditions, culture and the attractiveness of those involved. Half the field in Zagreb are mercurial Slavs, by turns zany and lugubrious. Meanwhile, at the Movistar Open half the players, aptly, look like movie-stars. Think Tomas Bellucci, Rui Machado, Potito Starace.* Don't think David Nalbandian or Juan Ignacio Chela.
What about Johannesburg? Well, to echo Porfirio Diaz' famous lament for Mexico: 'Poor SA Tennis Open! So close to the Australian Open, so far from anywhere.'** It's just not working out, is it? Notwithstanding its relative youth, when an event is being overshadowed by Zagreb and Santiago, hardly titans of the ATP circuit, there's an issue somewhere. In order for a tournament like this one to prevail, it really needs an angle, something to offer beyond meagre ranking points, a small prize-pool and a couple of long-haul flights. Zagreb is close to home for a host of second-tier Europeans, while the South American swing allows the dirtballers to sink their teeth into some tasty clay for the first time in months.
This biggest name the SA Tennis Open has so far attracted is Jo-Wilfried Tsonga a few years ago, but even winning it was insufficient incentive to return. He looks pretty chuffed in the photos, clutching that absurd trophy, but he doubtless looks the same after a really good one-night-stand, with a similar disinclination to stick around.
This year the top seed and defending champion is Feliciano Lopez, who won zero matches and might have his work cut out negotiating an appearance fee come 2012. Some have labelled the event a glorified Challenger, but that's not terribly fair on Challengers, a few of which are pretty classy. Last year the Lugarno Challenger final saw Stan Wawrinka beat Starace in three sets, which from a dollar-for-entertainment perspective delivered superior value to the Australian Open final, tickets for which cost roughly three cows and your firstborn son.
Nonetheless, if you're South African and you care, you're hopefully delighted at the efforts of Kevin Anderson, Fritz Wolmarans, Rik de Voest and Izak Van der Merwe, all but the first of whom are new to me. I'm not certain their names will ever eclipse, say, Jacques Kallis in their home country, even after this week, but they're making the most of their opportunities. The issue is that the opportunities have arisen due to the big names not being very big and going out early. What the event is crying out for is some bigger names, turning up and doing well. If that were to happen, and a local was to go deep, then that would be something to stay home about.
* In the vein of my 'organic gruel' Google experience from the other day, I tried searching for 'Potito Starace' but sadly all the results featured the Italian tennis player, and nothing about potato starch, proving that you can't preempt these things.
** 'Poor Mexico! So far from God, so close to the United States.'