Dubai Duty Free Tennis Championships, Semifinals
Federer d. Gasquet, 6/2 7/5

When Roger Federer gifted a break of serve to Richard Gasquet in the second set of their Dubai semifinal, the was a collective worldwide exhalation as tens of thousands of the faithful emitted pent-up 'not-again' sighs. The global temperature subsequently rose about a tenth of a degree, and the polar icecaps receded almost a foot.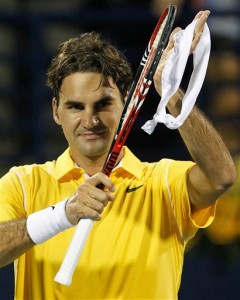 Federer's mid-match mental sojourns have now grown to be such a factor that even he is willing to discuss them, although their impact on climate change has been largely glossed over. This is not to say that the faithful were especially concerned over the result – it was Gasquet after all – but there is anxiety for what it betokens heading into the US Spring, and the clay season that follows. It is, naturally, another sure sign of his Decline.
Gasquet's fans, on the other hand, know that their hero gaining a break is only the necessary first step towards blowing it. His real goal is to break their hearts, again and again. No one has ever been in any doubt that Gasquet is skilled enough to occupy winning positions. So it proved again. Up 5/3 in the second, looking to force a decider, the Frenchman won only a handful of points before scurrying from the court. The flaccid break had been enough to galvanise Federer, and he and Gasquet thereafter toiled cohesively towards the common goal of securing a nice win for the top seed. When true professionals act in concert, there's seemingly no limit to how efficiently they can get things done. The last four games took about ten minutes.
Gasquet, who by winning just about anything would become a national celebrity, has once again inspired his share of opprobrium. This is patently unfair. Has it occurred to anyone that he is playing as well as he can? Clearly he has a mountain of talent, and a stellar backhand, but what in his history leads anyone to believe he has the mental fortitude to compete at the highest levels? Very few do, and that has always been the case.
The issue, as I've suggested before, is that fans tend to regard talented ball strikers as defective when they can't close out a set. But the top hundred features scores of men who can strike a tennis ball beautifully, but only a handful one would rely upon to close out a match. On this evidence alone, you'd have to say the latter ability is more precious than the former. Conversely, the tactically-sound, mentally strong player with limited weapons can't be lauded enough. Fans may patronise them, but they nonetheless respect them for doing the best with what they have. It reflects a paradoxical tendency to exalt talent over hard slog – a clear betrayal of egalitarian ideals, but our idols are not our equals. Federer of course is the most idolised of all, and he has consequently transcended 'talent'. He is a Genius, like Mozart, and apparently we need to be quiet while he works.
Djokovic d. Berdych, 6/7 6/2 4/2
In tomorrow night's final, Federer will face Novak Djokovic, who eventually overcame Tomas Berdych in what the Serbian later described without a trace of hyperbole as his worst match of the year.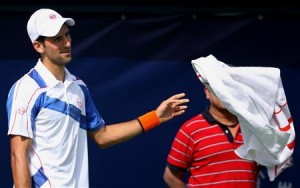 When he wasn't exploring a narrow corridor up the guts of the court, he was probing the middle of the net with his backhand. Berdych took the first set, but thereafter part of his leg stopped functioning properly – pardon the medical jargon – and he defaulted at 2/4 in the third.
The final is being heralded by most as a rematch of the Australian Open semifinal, even by those who otherwise insist that Grand Slam play is unlike any other type of tennis. With that said, the last time these two contested a 500 event was in Basel last October, when Federer defeated defending champion Djokovic in a see-sawing three set final. Fans can make of that what they will, but the correct thing to make of it is nothing.