Abierto Mexicano Telcel, Acapulco
Ferrer d. Almagro, 7/6 6/7 6/2

For the second time in as few years, a Spaniard came within a single match of capturing three titles in the Golden Swing, which, as achievements go, hardly ranks up there with mapping the human genome. Despite its rather inflated title, the Golden Swing is merely three minor tournaments where no top players turn up, followed by Acapulco, where some of them do.
You can probably guess which is the hardest to win. Anyway, last year it was Juan Carlos Ferrero who fell short, and this year it was Nicolas Almagro. On both occasions, David Ferrer arrived to rain on their parades; a Golden Shower, as it were.
I've already said that Almagro is the best clay courter going around, until the better ones come around. Trailing 2/5 in the first set, Ferrer looked set to make a liar out of me, or at least prove that even obvious sporting predictions are a fool's conceit. Little did I realise that in addition to being a barrel-chested hunk, Almagro is also a performance artist of the first order. The court at the Fairmont Acapulco Princess was his canvas, and in that first set he performed for us a comprehensive retrospective of the career of Guillermo Coria. He commenced with electrifying early promise, looking for all the world like a premier dirtballer, before dissolving into a welter of mental collapse and double faults. A gritty fightback ultimately came to naught. It was a touching homage, although to be truly comprehensive he needed to get nicked and acquitted for nandrolone, graze a ballkid with his hurled racquet, and generally behave like a surly prat. Still, a solid effort, which doubtless owed much to the expert input of his coach, Jose Perlas, who briefly oversaw Coria's decline.
Aside from its artistic value, which was immeasurable, the Acapulco final was an excellent and dramatic match, the pick of the three finals played this weekend. As facetious as I am about the whole affair, Almagro is player I have plenty of time for. The trick, once the twin inconveniences of Indian Wells and Miami are dealt with, will be for him to retain form in Europe, to forge his way through tougher draws to final weekends, and there be mauled by Rafael Nadal.
Dubai Duty Free Tennis Championships
Djokovic d. Federer, 6/3 6/3

Dubai ended as it began, promising much but delivering little. I can recall no stand out matches. At least the crowds picked up, although too many matches took place at night, in slower conditions, when the stadium could be anywhere. It is a lovely sight by day, with the gentlest haze softening the vivid wash of Arabian light, sharply relieved by the bold flower arrangements ringing the court.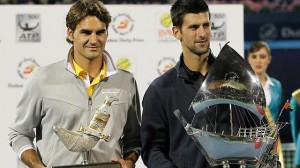 For the second time in as many meetings, Novak Djokovic proved too potent for Roger Federer. Melbourne demonstrated what happens when Djokovic is outstanding and Federer is merely adequate. Dial down Federer's execution a few more notches – it no longer goes to 11 – and you have the Dubai final. Djokovic remained excellent, especially considering his weak effort against Berdych one day prior. He and Federer have clashed seven times in the last seven months, with the Swiss leading 4-3. Those matches have showcased every possible permutation of their respective abilities, besides the one I'm most eager to see. We've seen Federer scintillating (London), and Djokovic appalling (Toronto), and both guys nervous (Basel). We've seen Djokovic solid and Federer distracted (New York). But we haven't seen them both firing at the same time. Given Djokovic's radical improvements of late, I hope we do, and soon.
Delray Beach International Tennis Championships
del Potro d. Tipsarevic, 6/4 6/4

If you are pursuing a maiden ATP title, Delray Beach is as good a place to spend a week as any. That's what it's for, having previously launched the title-sprees of luminaries such as Xavier Malisse, Davide Sanguinetti and Kei Nishikori. The defending champion is Ernests Gulbis, who characteristically opted not to show up, preferring an early exit in Dubai, believing that the act of defending ranking points is a practice best left to the mentally sound. Besides Delray Beach, other important stops for the would-be titlist include Moscow and Rosmalen. These are the regular haunts of Janko Tipsarevic, whose notoriety as the best player without a title continues to swell. Indeed, it has now swollen to the extent that commentators the world over have apparently added it to their crib sheets, right below the fact that he actually reads Goethe and Dostoevsky, as though reading two of the most famous writers in history is an astounding thing for a person to do.
For the true believers, Juan Martin del Potro's first title since the 2009 US Open is a vindication of sorts. It wasn't pretty, but it was prettier than anything that happened for him last year. The way he kissed his wrist afterwards said it all. Sure, it's only Delray Beach, but he'll take it. That's what it's for.