Abierto Mexicano Telcel, Acapulco
Quarterfinals
Nicolas Almagro, a six foot monument to meticulous grooming and preternaturally clear skin, would not look misplaced in that kind of daytime soap opera they used to have in the 1980s, which is to say the kind they have now, the ones in which all the men are named Rock and Beau, and the women are named Hope, or Chastity, or Buggery. Almagro was slightly ruffled in overcoming Santiago Giraldo in three sets today, but he never looked it. It must be disheartening to glance up after a desperate and extended rally and see that your opponent's hair has not moved. Say what you like about David Ferrer, but he looks like he's been through hell to win a match. Hell, he looks like he's forded the Styx. He's a dreamboat, to be sure, but one that's capsized.
There are a number of reasons why Ferrer vs. Almagro would constitute the dream Acapulco final. Some even involve tennis. Between them, they hold the last three titles. So far through the South America clay court season – the optimistically titled 'Golden Swing' – Almagro has looked a class above his fellows, with twelve consecutive wins and counting. As I've said before, he's the best claycourter in the world, until the better ones show up. In Ferrer, a putatively better one has shown up. (If rankings are any guide, Fernando Verdasco is also his superior. However, most of Verdasco's points date from before Milos Raonic systematically dismantled his spirit, an event gorgeously timed to follow this offering from the ATP's hype-machine: 'The Best Is Yet To Come'. )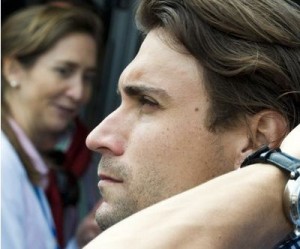 However, for Ferrer to find Almagro, he'll have to grind a way past Juan Monaco, against whom he somehow boasts a losing record. While there are such things as poor match-ups in tennis, for the life of me I can't imagine what it is about Monaco's game that realistically troubles Ferrer. Still, both guys are fleet over the surface, and neither possesses sufficient penetration to penetrate without first manoeuvring their opponent in to or out of position. In short, it'll be a long one.
The prize will be a shot at the striking Alexandr Dolgopolov, who today loitered transfixed as Stanislas Wawrinka fought a manful battle against himself, from which no clear winner emerged. The Swiss held four set points in the second, but he saved them via some enterprising errors, conjured out of nothing. The whole set proved a succinct summary of why Wawrinka has never made much headway beyond the 250 level: he's not good enough for long enough. For his part, Dolgopolov displayed typical flair, though he'll probably need more than the odd serve-volley against Ferrer or Monaco.
Almagro's path to the showdown is less cluttered with dud match-ups or unorthodox gringos. He faces Thomaz Bellucci in a dreamboat semifinal, for a chance at the dream final.