Australian Open, First Round
Youzhny d. Ilhan, 6/2 6/3 7/6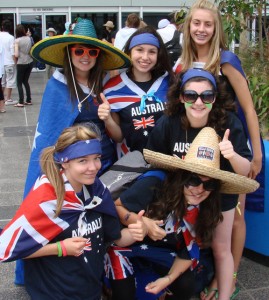 Armed with the day's schedule, a map of the grounds, and some marker pens, the family beside me – I dubbed them the Jingos – were laboriously charting their course through Day 2 of the Australian Open. No Australian was too obscure to make the itinerary. (Marinko Matosevic? Check. Matthew Ebden? Bring it on.) No one else was too famous to be cut from it. (Andy Murray? Gone.) I stole a glance at the completed diagram, criss-crossed with arrows. It would be tight, but so long as they didn't stop to either relieve or enjoy themselves, they might just pull it off. Mother Jingo handed out a sheet of Australian flag decals for the children to adorn themselves with. Drill-sergeant Dad Jingo gave them the once-over, securing the youngest girl's cape more securely.
The official television broadcaster Channel 7 has come to the patriotic party. Amongst abundant promos highlighting the heroic role they've played in filming other people in adversity, they're not opposed to showing the odd tennis match. Their latest initiative is to display a little Australian flag next to the name of every Australian player, so that viewers may better forge a connection with people they might not otherwise recognise. Few can forget the mayhem at last year's Australian Open, when some fans started booing Bernard Tomic, thinking him a foreigner, or a prat. At least this year we can be sure they're booing him for the right reasons. In case you're wondering, the nationalities of other players are not displayed. Where they hail from is not important. It is enough to know they aren't from here.
I left the Jingos constructing some jolly placards – 'GO AUSSIE ACE IT FOR QUEENSLAND!' – and made my way to the back-lot, where the world's tenth best tennis player was plying his trade on a remote court. Mikhail Youzhny's last Grand Slam match was a semifinal on a packed Arthur Ashe stadium. Here on Court 13, rail-lines adjacent, it seems the tournament was penalising him for not choosing the country of his birth more carefully.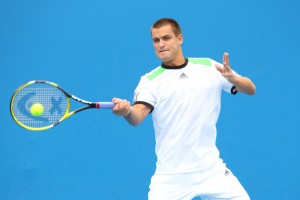 His opponent was Marsel Ilhan, Turkey's finest. As with many Mediterranean players, Ilhan has a vast and vocal Melbourne following, who enjoy nothing more than tightly-rehearsed slogans and beating their fists against resonant objects. They comprised about half of those present.
Aiming for parity, I seated myself in the Russian support section, which consisted of two old men, one in shiny trackpants, the other in a shinier suit. They seemed friendly, and while the exhortations they bellowed at 'Misha' lacked the close harmony of their Turkish counterparts, it was heart-felt. Youzhny clearly appreciated it, and before long was directing his fist-pumps and roars our way. Watching Youzhny live is always a treat, especially from up close. He is a player's player. Lacking extravagant weaponry, you can see him actually thinking on court, carefully considering each point. That said, he was slow to exploit Ilhan's obvious deficiency, which is a weird and cumbersome forehand preparation, one that sees him yield the baseline so as not to be rushed. Youzhny should have rushed it more, but he got there eventually.
Lopez d. Falla, 6/3 7/6 6/3

Bellucci d. Mello, 7/5 7/5 4/6 3/6 6/3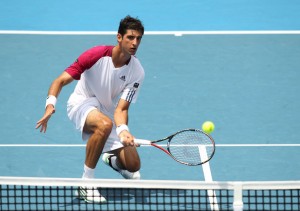 From there I swung by Feliciano Lopez and Alejandro Falla, who is the swarthiest man I've ever seen. It was as though he'd been dipped in it. As always, I was struck by the woodenness of Lopez' movement. Up close, he is not a natural, though he might just be dreamy enough to warrant the female attention he was receiving. Even prettier was the Brazilian 30th seed Thomaz Bellucci, who was battling compatriot Ricardo Mello on Court 19. Their country has been beset by floods, too. So far over 600 have lost their lives, and tens of thousands have been displaced. Unfortunately none of them have little Australian flags next to their names, and probably won't have a tennis benefit organised on their behalf. While Matthew Ebden failed to do it for Queensland or the Jingos on Margaret Court Arena, Bellucci fought through in five.