Australian Open, First Round
Monfils d. de Bakker, 6/7 2/6 7/5 6/2 6/1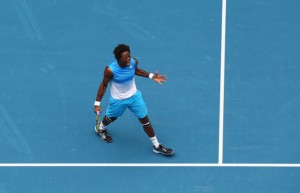 I switched on the TV at a seemingly opportune moment, as the coverage cut from a yawnfest on Rod Laver Arena to an intriguing men's match on Hisense. Serving at 5/6 in the first set, desperate to force a tiebreak, Thiemo de Bakker sealed the hold with a terrific forehand up the line past a stranded Gael Monfils, punctuating it with a roar of self-appreciation. Tiebreak time! This was naturally the broadcaster's cue to return to the 'action' on Rod Laver, where Maria Sharapova was going to terrific lengths to squander a commanding lead. 'She's really pulling off on a lot of balls here,' remarked Kerryn Pratt, evocatively. The issue, primarily, was double-faults: 'As a professional athlete, she needs to be aware that these serves aren't clearing the net'.
Back on Hisense, de Bakker went on to take that first set, and the second for good measure. For even better measure, he broke in the third, and stepped up to serve it out at 5/3. Monfils was in so much trouble that even he was aware of it. In case we at home weren't: 'Monfils is in real trouble here.' I'd like to claim it was dry British understatement, but it was just homegrown Aussie silence-filler. In any case, it turned out the Frenchman was in rather less trouble than we'd thought, as de Bakker produced the worst service game since Sharapova about twenty minutes earlier. Monfils broke back, then broke again to take the set. He won the last couple going away.
The Dutchman's mental lacerations were severe, and, based on the pronounced limp he suddenly developed, apparently gouged out part of his motor cortex. It is the first time Monfils has recovered from a two set deficit. Asked about it afterwards, he remarked of his opponent: 'I know Thiemo a bit. I know sometime he snap in the head. So this is like a strong belief. We know like he can snap. It's a weakness for him. So you play with that.' It turns out Gael Monfils does have an inner game, and a penchant for calling kettles black.
Dimitrov d. Golubev, 6/1 6/4 6/2
The latest man to be burdened with the epithet 'Baby Federer' – it's worked out so well for Richard Gasquet – Grigor Dimitrov today proved the adage that surviving a tough Qualifying draw builds character. We could also say that a brutal Qualifying draw can be brutalising in its turn, which might better explain the rough hiding he duly inflicted on poor Andrey Golubev, who'd had every right to be relieved at drawing a qualifier first up.
As this match took place on an outer paddock court, it was not televised. Dimitrov next meets Stanislas Wawrinka, which will almost certainly occur on a show court. The Swiss No.2 is made of sterner stuff, but he will find little consolation in the 'Q' next to his opponent's name. Even if he loses, Dimitrov should now move into the top 100, and at just 19 will become the highest ranked Bulgarian male player in history.