Qatar Open
Any hope that Doha might provide a clear form-guide ahead of the Australian Open was frustrated by Rafael Nadal's illness. The tribal zealots are of course over-analysing it, which is a kind way of saying they're incapable of any analysis at all. When you hold a hammer, so the saying goes, all you see are nails. With brains of iron, the outlook is basically the same. Faceless chumps who actively wish bodily harm on their forum-peers presume to condemn a slightly tepid handshake following Nadal's semifinal loss. Unquestionably he was unwell. The real question will be how profoundly it affects this most meticulously prepared of athletes.
Otherwise, we discovered that Roger Federer is a better player than Jo-Wilfried Tsonga, although the Frenchman is coming back from injury, having severely ruptured whichever ligament enables him to return serve. Federer's awkward win over boyhood chum Marco Chiudinelli proved that even the great man can be temporarily handicapped by 'feelings'. We found out that Nikolay Davydenko can overwhelm an ailing Nadal. The way he was connecting – very hard and very early – suggested he might overwhelm a healthy Nadal, but we just can't know for sure. Nonetheless, it's fair to say Davydenko was back to his old self, which meant he was no match for Federer in full flight. On this surface, who is? The Swiss now has his 67th career title, and his fourth from the past five tournaments. He certainly has momentum heading to Melbourne, unlike last year when he lost in the Doha semifinals, then blitzed his way to a 16th major.
Brisbane International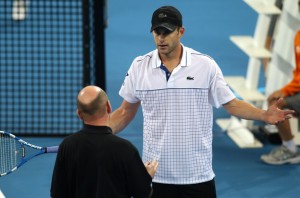 There is apparently some debate about whether the Pat Rafter Arena is an indoor or outdoor venue. Insofar as it matters either way, surely this issue can now be put to rest. Indoor arenas tend not to allow the outside in. Pat Rafter Arena kept letting the Queensland monsoon in at the sides, which seems fairly conclusive to me. It also provided Andy Roddick with the excuse to blow his top in the final. Down a set, looking out-muscled, it was almost on cue. The squeamish thing about Roddick's increasingly predictable dummy-spits is not their severity, nor even their length. It's their pettiness; the way he quibbles. The latest installment saw him take issue with umpire Fergus Murphy's technique for testing the slipperiness of the court surface. A worldwide television audience was treated to a lengthy disquisition on the matter. Even Robin Soderling – with as vested an interest as anyone – gave up on it, and buried his head in a towel.
The most important result of the indoor-outdoor debate (as it will be whisperingly dubbed by later generations), was that this is Soderling's first outdoor title. The rangy Swede is now world No.4, meaning he'll receive a slightly better draw in Melbourne. The corollary is that Murray at No.5 will have a slightly worse one, as will the poor sod that draws him in the quarterfinals. There's no telling what will happen. Last year it was Nadal, and his knee exploded.
Lessons learned: Smug entitlement does not a committed Bernard Tomic make. He's since fought through qualifying in Sydney, and looks ten times more imposing. Fernando Verdasco taught us that a change is not as good as a haircut, especially a goddamn awful haircut. For Radek Stepanek, purple is the new kak.
Hopman Cup
The thing the Hopman Cup does better than any other event is make the players seem like human beings. This is not an inconsiderable achievement, and those involved are rightly proud. As an invitation event it has the luxury of a small draw. Scheduling allows it to welcome the players with a grand New Year's Eve ball. There's a pro-am golf thing, and a welter of TV fluff-pieces (treating us to, say, Tommy Robredo knocking up a paella). Amidst all this bonhomie, there is the odd tennis match, though these too evince an infectious joie de vivre, even the men's singles. Nicolas Mahut saw to that.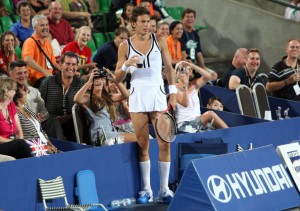 The great disappointment was that the hoped for encounter between Novak Djokovic and Andy Murray never materialised. There's is a rivalry that has never been, two high-quality players whose trajectories are restricted to near-perfect parallel by the greats above them. That might change in Melbourne. The other disappointment, if only for the promoters and idiots, was that the anticipated Isner-Mahut rematch proved rather shorter than their last run-in.
Lesson learned: The only thing that can upstage Bethanie Mattek-Sands in full get-out is Nicolas Mahut in a snug frock. It would be easy to be snide about this – drag isn't my bag – but it was pulled off with such dead-pan Gallic aplomb that I couldn't help but be amused.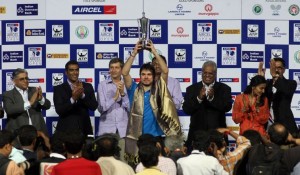 Chennai was won by a gradually-improving Stanislas Wawrinka, which tells you something about how he's bounced back from divorce. In the final he overcame world No.60 Xavier Malisse, whose No.7 seeding tells you plenty about the depth of the Chennai field. Tomas Berdych – the thirtieth best player in the world who is somehow ranked No.6 – was top seed.
In a week with four tournaments running concurrently, it was probably inevitable that one of them would be a dud, and that Chennai would be it. Notwithstanding all the work the ATP is putting into China, it seems obvious that there's a vital market going untapped in India. The country deserves a higher profile event, one less overshadowed by Qatari petro-dollars or the Hopman Cup love-in.