Brisbane International
Soderling d. Stepanek, 6/3 7/5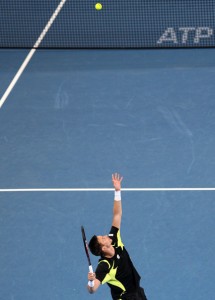 Whichever media genius came up with the idea of accosting players as they're heading out on to court has a lot to answer for. The intention, apparently, is to help the viewers identify better with the players. In order for this to happen, the broadcasters have striven mightily to create a situation in which nothing of interest will ever be said, except by accident, and even then only by the woefully under-qualified interviewer. Observe today's probing effort, as Robin Soderling was about to go out on court for his semifinal with Radek Stepanek: "Now, you've been serving extremely well, and haven't been broken so far this week. Do you plan on using that tactically in your match today?" It's the kind of fatuity that drinking games are constructed around. The gales of laughter that erupted in our lounge room unfortunately drowned out Soderling's patiently distracted reply. It is a testament to his softly-spoken professionalism that he didn't collapse into a mirthful heap himself.
Elite sportspeople are mostly inured to stupidity. The fluff piece aired by Channel 7 directly before the match demonstrated why it's important that they are. After a cringe-inducing intro – "I haven't picked up a tennis racquet since high school! Who better to give me some lessons than world No.5 Robin Soderling and his coach?!"  – we were treated to the world No.5 feeding balls (left-handed) to the vivacious reporter, while his coach Claudio Pistolesi quoted da Vinci at her.
Once the semifinal commenced, it wasn't long before the probing question was answered. Soderling seemed to be tactically deploying that serve of his with startling regularity, about every second game in fact. He essayed various approaches with it, but personally I thought the serves that went in were the best. He clearly thought so, too, and mostly stuck with that. Then Geoff Masters – commentating with John Fitzgerald – went and blew my mind by offering an insightful analysis of Soderling's serve. Focusing on the Swede's unusual grip, he demonstrated how it limits the Swede's capacity to deliver effective sliding serves. His slider doesn't slide. Graphics proved useful – another first for tennis coverage – proving that Soderling's deliveries to the right-hander's forehand lack both curve and placement, and that what effectiveness they boast is due to raw power.
As it happened, raw power was enough to get by Radek Stepanek in a match that only came alive in its final minutes, when the Czech finally broke back as Soderling served for it. He successfully whipped the Queensland crowd into some kind of frenzy – no mean feat in itself – although the effect was rather undone when he was immediately broken again. Having learned from his mistake, Soderling returned to serving tactically (i.e. hard and in), and held to love.
Soderling meets defending champion Andy Roddick in tomorrow's final. If he wins he'll move up to No.4. This would relegate Andy Murray to No.5, a brutal quarterfinal prospect for someone in Melbourne.