In the course of researching up-and-coming Australian players for an upcoming article, I stumbled across some resources that are too valuable not to pass on immediately.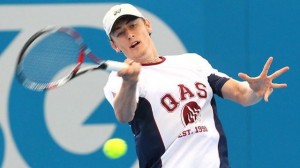 The first is Challenger Tennis, a website whose mission is the chronicling of men's tennis at those levels directly below the regular ATP tour. This is achieved with such seemingly effortless class that I could not help but be impressed. I'd wondered if anyone was actually covering this material; now I wonder that someone is doing it so well.
By limiting its scope, the site has freed itself from the obligation to get everything in, which in any case is a foolish obligation to feel. Even with all the resources in the world, a panoramic view inevitably leads to a diffusion of gaze. You just can't get everything in, and it is a kind of conceit to try. Challenger Tennis is the internet at its best, because it represents the furtherance of human knowledge at its most selfless. Indeed, I am struck by the extent to which it reflects the near-thankless toil of the Challenger and Futures tours themselves. From that perspective, the effort is heroic. That it is done with engaging charm is a bonus, but not an incidental one. A truly literary style is a hard thing to gainsay, even when it is placed at the service of ephemera:
"Throughout the second, Greg saved BP's with brave net ventures and big serves, sometimes combining them in a little something I like to call serve and volley (I hope that catches on)."
Proof, if more is needed, that it is always better to say things well.
The second link is an intriguing thread from Mens Tennis Forums, making it something of a diamond in a morass. The poster has taken it upon themselves to translate (from Hebrew) the continuing adventures of Amir Weintraub, who as of this writing is Israel's second highest ranked male player (No.270). Though only the first instalment, it makes for some evocative reading, and provides an important counterpoint to the prevailing view that the life of a tennis pro is all sunshine and dazzling splendour. Of course, those who follow the sport know it to be otherwise, but it is always valuable to hear a human being say it.
It is poignant to juxtapose Roger Federer's earnest remark following his victory in the Tour Finals ('I need holidays. Time is money these days.'), with Weintraub's wry concluding line: '. . . what's money in comparison to the chance to earn a few more ranking points?' Naturally, the gap between Federer and Israel's second best tennis player is vast, but these lines suggest it is a chasm. After four days transit to make about $500 in Noumea, all Weintraub has is time, even if, at 24, he can probably already feel it draining away.
Incidentally, Weintraub did make the qualifying cut for the Australian Open, but fell in the first round to Ivan Sergeyev in three tough sets.