Australian Open Qualifying, Second Round
Jones d. Bozoljac, 7/6 6/7 10/8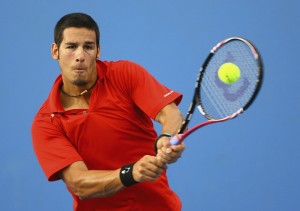 It would be inaccurate to say today's second round Qualifying match between Australia's Greg Jones and Serbia's Ilija Bozoljac had zero atmosphere. It had some, although whatever vibe it did scrounge up was in spite of Bozoljac, who for three long sets only ever stopped glowering at the crowd long enough to remonstrate with the umpire. It was a warmish day, and some in attendance were inclined to shift in their seats from time to time, or partake of a sip of water. These, it transpires, are glarable offences. One poor kid had a balloon. You can imagine the ire this provoked. In between compiling a mental catalogue of how he'd like to deal with each and every one of those in attendance, Bozoljac also had stern words for a medical timeout, and grew increasingly outraged that none of his opponent's shots landing near the baseline were called long. To be fair, some of the balls were probably almost out.
I've only seen Bozoljac play once before, when he took a set from Roger Federer in the second round of last year's Wimbledon. I don't recall him carrying on the same way back then, even though Centre Court at the All England Club boasts considerably more spectators to get offended at. It's hard to avoid the conclusion that his behaviour today stemmed from a lack of respect, for his opponent and for his situation. Strange behaviour for someone who primarily earns his crusts on the Challenger circuit, where there is no Hawkeye and often no crowd. It was exasperating to watch, and several times I was on the verge of descending wrathfully to the court and doling out a piece of my mind, but propriety stopped me. Propriety, and the fact that Bozoljac is 6'4'' and looked mad as a cut snake.
In the circumstances, Greg Jones's composure was impressive. He paid his opponent no heed whatsoever. If he had, and if he was that kind of person, he might have tried ratcheting up the aggro a little. A delay here, a rambunctious outburst there. He's clearly not that kind of person, though he did manage a measured 'C'mon' when he broke back as Bozoljac served for it. The crowd promptly summoned a belligerent cheer, our numbers now sufficient to feel confident that we would overcome Bozoljac if it came to blows. Nine games later, serving at 8/9, and 0-40, he submitted with a petulant double fault.
Jones narrowly eked out his first match 9/7 in the final set, and has now earned weary passage to the third round. There he'll discover top seed Blaz Kavcic, rested and waiting. I don't fancy the Australian's chances.