Australian Open, Third Round
Djokovic d. Troicki, 6/2 ret.
Roddick d. Haase, 2/6 7/6 6/2 6/2

It was really brought home to me today what a lottery buying tickets to the tennis is. At a shade under fifty bucks, a day in a roasting Hisense Arena appeared to be the hottest deal in town. First up Novak Djokovic vs. Viktor Troicki. Second, Andy Roddick vs. Robin Haase. Some enticing third round prospects: mouths were watering, palms tingling, backs sweating. Stomach muscles were tearing. Unfortunately this last was Troicki, and at a set down he was obliged to give it away. Djokovic now joins Nadal and Murray in enjoying an early-round gimme. Federer zealots are livid. The fix is on! Their ire (which is infinite) is evenly apportioned between Craig Tiley, Uncle Toni, and the cosmos.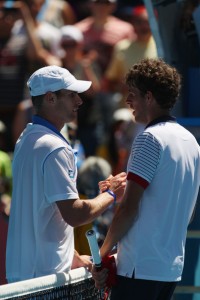 Spare some regard for the poor buggers baking in Hisense, whose coveted tickets had lost some cachet. Then Roddick and Haase strode from the tunnel. Dutch fans speak highly of Haase – whose professed hobbies include tennis and knee surgery – as do aficionados of 'tremendous ball striking'. At 0/1, he seemed to roll his ankle, and limped to his chair. The Hisense crowd was less sympathetic than it might have been. Then my stuttering internet stream expired.
I turned to my television, curious to hear its thoughts. Not much: commercial break, after which Channel 7 brought up that split court graphic they're currently so proud of, the one where they display all courts simultaneously, in real time. It lets you feel like you're manning the security station at a shopping mall, which is exactly what one looks for in tennis coverage. It does have the advantage of showing you just how much interesting stuff is going on outside of Rod Laver Arena, while inside it Caroline Wozniaki was grinding down some diminutive hacker from the Eastern Bloc. Over on Hisense, Haase had expanded his breather into a full-blown medical time out. Sadly, the coverage stayed with Laver, which is a shame since I'll take a tight shot of a physio strapping an ankle over Wozniacki any day. Luckily, the stream reconnected, so I could.
Haase ambled gingerly back onto court, held, then broke Roddick twice, which you might have missed while Jim Courier argued at soporific length that the American is the greatest server in the universe. A clear disconnect between words and images, but blame the Dutchman. I was reminded that, once upon a time, big guys like this used sometimes to rip through a slam draw, unheralded and unstoppable. It wasn't to be. Stuff like that doesn't happen any more. Roddick is too professional, and the unheralded titans of this age are all basketcases.
Back on Rod Laver, and Justine Henin and Svetlana Kuznetsova were providing another reason to be thankful for the invention of the tiebreak: it means two players can only concede flaccid service breaks for so long before someone is forced to win the set, whether they like it or not. Despite her best efforts, Kuznetsova took the second. Luckily for her, she'd won the first, too. Henin is out. The torrent of audacious winners had almost entirely dried up on Hisense; only a trickle continued unchecked from Roddick's racquet. The whole thing had devolved into the kind of dour penance that Roddick insists he thrives on, and that his fans must by necessity tolerate. He's through. The draw now lacks Dutch men. Roger Federer and Xavier Malisse were not far off; a very tough afternoon for the Low Countries.
Federer d. Malisse, 6/3 6/3 6/1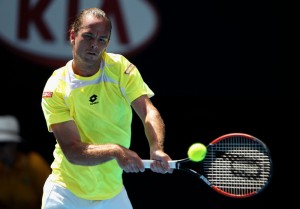 Federer and Malisse sauntered out onto court, a 'sliding doors' moment. They've been playing each other since they were 12. Now they're ancient. It has been about eight years since they've had much else in common, back when they were the next big things. There was a fork in the road, but only one of them turned right.
I wonder, does Federer ever see Malisse and think 'There but for the grace of God go I?' It's difficult to imagine. It's easier to imagine Xavier Malisse in a dodgy bar somewhere, conspiring with Tommy Haas to do Federer in.