Australian Open, Third Round
Raonic d. Youzhny, 6/4 7/5 4/6 6/4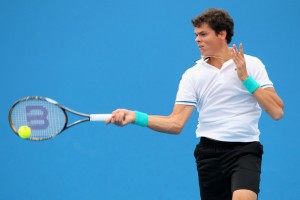 Now that he has defeated No.10 seed Mikhail Youzhny, Canada's young Milos Raonic can feasibly lay claim to being the story of the first week. Including Qualifying, it was his sixth straight victory at Melbourne Park.
Still only 20, he is a big man (6'5"), with a commensurate serve, an inclination to attack, and fine composure. For those who follow tennis only occasionally, he has sprung seemingly from nowhere. Those who follow it closer know he has sprung from Montenegro by way of Canada, and that his results over the past six months have been building to something notable. He progressed to the quarterfinal of Kualar Lumpur (l. to Andreev), and pushed Rafael Nadal in Tokyo. With compatriot Vasek Pospisil, he knocked off the dream-team of Nadal and Novak Djokovic at the Canadian Open. Arriving in Melbourne he was ranked No.152. If he loses to David Ferrer in the round of 16 – by no means guaranteed – he will rise to somewhere around No.100.
In addition to his undeniable abilities, Roanic boasts some more strings to his bow, which is of the rare multi-string variety. Firstly, being from Canada he is well positioned to capitalise on their dearth of top line tennis talent, in much the same way Ai Sugiyama and Sania Mirza have in their respective countries, though on an admittedly more modest scale. Canada is hardly a tennis backwater, thanks to its proximity to the United States and a well-attended Masters 1000 event. A successful player could very much write his own sponsorship ticket, and is virtually guaranteed a reasonable start-up fanbase.
His other advantage lies in this:
Every time he wins, this gets posted everywhere, which will eventually grow wearisome if he starts winning a lot. For the time being, though, there are worse fan bases to tap into than Seinfeld's, so vast, and so receptive to precisely this kind of quirky juxtaposition. With a baked-in fanbase and his very own catch-phrase, watch Raonic go viral.