Australian Open, Second Round

Tomic d. Lopez, 7/6 7/6 6/3
31st seed Feliciano Lopez today lost in straight sets to Bernard Tomic, who is ranked No.199 in the world. The Australian press has commemorated this result with characteristic composure. The Age dubbed the win 'A-Tomic', a headline that is at once obvious considering his surname, and misleading considering his pedestrian playstyle. The Sydney Morning Herald has opted for 'Weekend for Bernie: Giant-killer Tomic sets up clash with Nadal'. Cringe-worthy clumsiness aside, it's also not very accurate. Who realistically believes Lopez to be a giant? Whoever it is, they're hopefully revising their estimation downwards. Everyone else is.*
If men's tennis boasts a hierarchy independent from simple rankings – and it assuredly does – then it has received a minor shake-up, although it isn't the one the Australian press fondly imagines. Tomic has earned the right to act like he belongs (but no more). Certain kinds of player should now be wary when they see him ahead in the draw (but no more). For Lopez, however, the damage is profound. Surely it is hard to show your face after a loss like this, which is a cruel blow for a guy like Lopez. Along with the bunched muscles in his thighs, his face is the thing he likes to show off most. He seems quite taken with it. After today's performance, you have to wonder if a pretty face is all he has. Lopez has now qualified for membership of that exclusive but growing club of men who have failed the Tomic Test.
There is a simple written test in which participants are instructed to read all the way to the end before answering anything. Many people ignore the initial instruction, and begin answering the laughably basic questions as they go, only to reach the end and discover that you aren't meant to answer anything at all. The point is to discover who is playing attention, and capable of following simple instructions. The only people who aren't caught out are those who take due care, or those who are too stupid not to.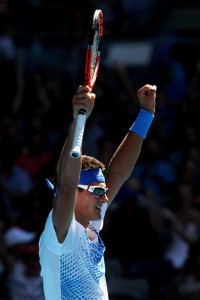 I've touched before on the role that stupidity can play in the outcome of tennis matches, on how more consideration needs to be paid to idiocy as determining factor. The Tomic Test is a basic task designed to see who is really paying attention, or who is just smart enough to fall into the trap of playing his game, but not smart enough to think their way out. Like an IQ test, failure can feel crushingly irrefutable. It isn't like you've lost to an inspired journeyman playing their heart out. No, it's exactly what it looks like: you've lost to some lumbering kid pointlessly noodling the ball around.
The next player to undergo the Tomic Test will be Rafael Nadal, who always pays careful attention. For his last match, the world No.1 was backed in at $1.01, odds that were overly generous to his opponent, a qualifier who played his heart out to grab four games. Hopefully not too many of my compatriots have had their brains scrambled by audacious headlines: patriotism standing revealed as fantasy. The only thing more foolish than losing to Tomic would be backing him against Nadal.
* The Herald Sun, which is to newspapers what Fox News is to sanity, was for a wonder the most circumspect in their headline: 'Bernard Tomic on road to redemption'. I was really hoping for something more like 'Day-Glo F-Lo Dealt Tomo Death-Blow'.